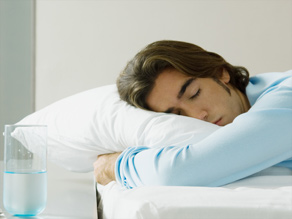 Brains may not be fully able to fend off involuntary drive to sleep, resulting in lapses when sleep deprived.
Overview
A May 2008 study in the Journal of Neuroscience finds that losing just one night of sleep makes the brain unstable and prone to sudden shutdowns.
Questions and answers
According to this study, what's going on with the brain and sleep?
Dr. Sanjay Gupta, CNN chief medical correspondent: It was a study of 24 adults tracked during visual tasks at two times via MRI: when they were well-rested and when they were sleep deprived for one night. The study found that more parts of the brain are affected by just one night than previously thought.
This study found these effects: reduced ability of frontal and parietal control regions to raise activation in response to lapses, dramatically reduced visual sensory cortex activation and reduced thalamic activation.
Certain parts of the brain have unstable and unreliable responses with sleep deprivation. The researcher says that it's as if the brain is both asleep and awake, and they are switching between each other very rapidly. He likens it to being a dark room: When the light is on, your brain is working properly. However, when someone is flickering the lights on and off intermittently, the lights are suddenly going off and on.
Is the brain actually giving out on you when it's fatigued?
Gupta: This study suggests that the loss of sleep can render some brains incapable of fully fending off the involuntary drive to sleep. These lapses can happen for a millisecond, but according to these images, the brain is impaired during those short blackouts. The author likened brain patterns seen through functional MRI to heartbeats. When you're well-rested, you generally have a steady rhythm in brain function. When you're sleep deprived, the brain is moving at a highly variable pattern.
Is everyone prone to these lapses when they're sleep deprived?
Gupta: Sleep researchers have a hypothesis that some people are resistant to this effect. Some people are affected after very little sleep deprivation. Those who are affected by just one night's sleep loss are approximately 15 percent to 20 percent of the population. They're called type 3 and they need sleep. Another 15 percent to 20 percent are type 1 and can go a long period without sleep. Those who are resilient have some part of neurobiology that prevents the sleep switch from occurring.
E-mail to a friend


Background
CNN spoke to Dr. David Dinges of University of Pennsylvania School of Medicine

CNN: What are some warning signs that we need sleep?

Dinges: You fall asleep in 5 minutes or if you notice that you have lapses and are suddenly missing things or slow to respond to something or variable in attention. However, these behavioral effects can also occur in other conditions. Assuming that's not the case, and this is a matter of fighting eyelid closure, there are problems associated with the working memory. For example, losing business cards or minor things are not the time to engage in emotionally evocative or big life decisions or long-haul drives.

People should get some sleep before they do anything serious. Many people do recognize and listen to their behavior, but many people don't listen or can't listen. In this state, the brain changes suddenly and uncontrollably, usually during attention tasks and cognitive tasks, so you don't want to put yourself in the position of doing one of those tasks if you're sleep deprived.