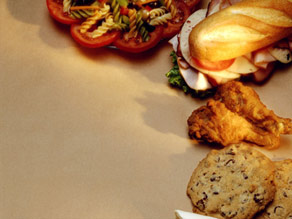 Researchers found that even though their stomachs were mostly full, heavier people didn't stop eating.
Overview
A study from Brookhaven National Laboratory gives us clues as to why some people overeat and gain weight while others do not. Researchers found that even though their stomachs were mostly full, heavier people didn't stop eating. It has to do with motivation and how your brain controls your desire to eat. The study appeared in the February 15, 2008, issue of NeuroImage.
Questions and answers
Does this mean people overeat because they can't help themselves?
Dr. Sanjay Gupta, CNN chief medical correspondent: The reasons we overeat are complicated. There's not just one factor. There are psychological, hormonal and physiological reasons someone eats too much. We've known for years that the brain reacts to food. What this study does is show us how the brain regulates the food we eat, and how it interacts with the digestive tract.
Researchers started by taking away things that would make someone want to eat, such as the smell, taste and sight of food. Instead, they had 18 people swallow a balloon, which they would inflate to simulate the feeling of fullness. Patients were asked to describe how full they felt. Researchers found that the higher their body mass index, or BMI, the less likely they were to say they felt "full" when the balloon was inflated 70 percent. This study helps explain why people think overeating is psychological. The region of the brain that tells people they're full -- the amygdala -- plays a major role in processing emotional reactions. Our stomach's reaction to being full may give us a feeling of well-being or satisfaction. We can see how something we experience as psychological can have physical consequences.
Does this means treatment will change for overweight people?
Gupta: This study definitely gives drug manufacturers something to look into. It's the first to give evidence of the connection between the left amygdala and feelings of fullness. It shows that activating this region of the brain suppresses hunger. Existing medications for weight loss don't target the amygdala. There are drugs that try to increase the sensation of fullness. Some of them target dopamine, which affects a person's ability to experience pleasure and pain.
What are some ways we can stop ourselves from overeating?
Gupta: One way to feel fuller is to eat slowly. A lot of times, people don't realize their stomachs are full, especially if they finish a big meal in just a few minutes. It takes a while for your stomach to signal to your brain that you're full. Another good tip is to eat a salad before your meal. Don't use a lot of dressing, and use plenty of lettuce and vegetables. This will fill you up before you tackle your regular food.
Background
Read the original press release from the Brookhaven National Laboratory Overweight people may not know when they've had enough
Find more information on firness and nutrition MayoClinic.com: Fitness and nutrition
E-mail to a friend