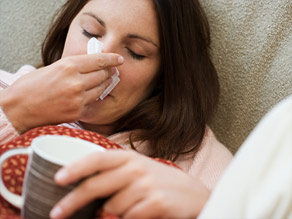 Cold air sometimes causes runny noses, but that's not necessarily a sign of a cold or flu virus.
Overview
A common misperception is that colds are associated with winter weather. But research shows that people actually get more colds during the spring and summer months.
The most common viruses are rhinovirus, adenovirus, coronavirus, and the influenza virus. Influenza, which is the virus that causes the flu, is the worst of them. Each of these viruses or infections has a characteristic "season." For example, rhinovirus infections, the most common virus in colds, are more present in the late summer, early fall and spring. Coronavirus infections are more present in the winter, and influenza is more present from December to March.
Questions and answers
Can exposure to cold and cold water cause you to catch a cold?
Dr. Sanjay Gupta, CNN chief medical correspondent: No. Exposure to cold is not responsible for someone catching a cold or the flu. During a cold or flu, a person often feels chilled, and this might make people think that coldness causes colds. Cold air sometimes causes runny noses, even without a cold, and this may also lead to some confusion. People who catch colds usually have run-down immune systems. They haven't been eating well. They might not be getting enough sleep.
Why do people seem to get sick on vacation?
Gupta: It's called "leisure sickness." Researchers say when you are busy, your body is active; when you have nothing to do, your body relaxes its defenses. A study in the Netherlands found workaholics were more likely to get colds when they were on vacations after they relaxed, because working kept their adrenaline up and boosted their immune system. Relaxing cut down the adrenaline and made them more vulnerable to viruses. Some participants in the study said that it was more stressful for them to go on vacation and that transitioning from work was difficult. Adrenaline gives a boost to the immune system, the body's defense against infection. Let your adrenaline drop and you are a walking target for virus infections.
Vacations and holidays also give people greater exposure to other people who are carrying germs that may make them sick.
What's the difference between a cold and the flu?
Gupta: They vary in symptoms. Colds usually come with runny noses, sore throats and headaches. The flu usually comes with a high fever, intense muscle aches, and, most of the time, you are bedridden. It really knocks you out. The flu can really take a toll on your body and it can even cause death in those with weak immune systems.
E-mail to a friend


All About Influenza • Contagious and Infectious Diseases