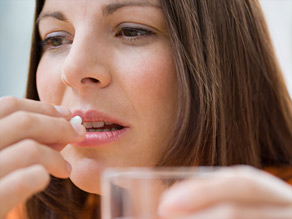 Aspirin helps protect a person from heart attacks by breaking up platelets in the blood.
Overview
Millions of Americans take aspirin to lower their risk for heart disease. Research in the British Medical Journal, released in January 2008, shows taking aspirin to fight heart disease may not be a one-size-fits-all solution for everyone.
Questions and answers
What did this study find?
Dr. Sanjay Gupta, chief medical correspondent: About one-third of the adult U.S. population --more than 50 million people -- take aspirin to prevent heart disease. Aspirin has clear benefits for a lot of people in reducing cardiovascular risk. It's also cheap, relatively safe, and easy to use. But for years, doctors have noticed that it tends to work better for some patients than others. Canadian researchers looked at 20 studies involving patients with cardiovascular disease. Twenty-eight percent of the patients were classified as aspirin-resistant.
Being resistant to aspirin makes patients four times more likely to suffer a heart attack, stroke or even die from a pre-existing heart condition, compared to non-resistant patients. We're seeing more and more evidence that with aspirin, a universal approach isn't the best.
How do you know if you're aspirin-resistant? What can you do then?
Gupta: Aspirin helps protect a person from heart attacks by breaking up platelets in the blood that could form blood clots. Clots can block blood vessels and lead to chest pain or heart attack. Some people, particularly women, are resistant to aspirin's blood-thinning effects. A urine test is available that identifies high levels of a biological marker found in people who are resistant to aspirin. These people may benefit from alternative blood-thinning therapies or treatments that more effectively block blood clot formation. The Canadian researchers found that taking other drugs to thin the blood, such as clopidogrel or tirofiban, did not benefit patients in the study. The best advice is to talk to your doctor about using aspirin to cut your risk for heart disease.
E-mail to a friend


Background
Read the original study, published in the British Medical Journal on January 26, 2008.


All About Heart Attacks