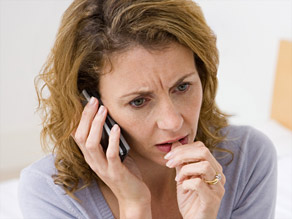 Panic attacks are associated with greater risk of heart-related problems in postmenopausal women.
Overview
Panic attacks are associated with an increased risk of cardiovascular events and death in postmenopausal women. The study appeared in the October 2007 issue of Archives of General Psychiatry, one of the Journal of the American Medical Association Archives Journals. The landmark "Women's Health Initiative Study" 1997-2000, was funded in part by GlaxoSmithKline, which makes the anti-anxiety medicine Paxil.
Questions and answers
What is the connection between panic attacks and heart attacks?
Dr. Sanjay Gupta, CNN Chief Medical Correspondent: Smoking, obesity and lack of exercise are all things we know increase your risk for a heart attack. But this study puts a panic attack right up there with those known risk factors for a heart attack. Researchers looked at about 3,400 women who had experienced menopause and found those women who had reported at least one full-blown panic attack during a six-month period were three times more likely to have a heart attack or stroke over the next five years than women who didn't have a panic attack. This study didn't answer why panic attacks may raise the risk of heart attacks in postmenopausal women, but said other research has shown stress hormones may cause direct damage to the heart and affect heart rate, heart rhythm and blood flow.
How do you know if it's a panic attack or an actual heart attack?
Gupta: Symptoms of a panic attack often mimic a heart attack. Emergency doctors will tell you people rush to the emergency room thinking they're having a heart attack, when it's really a panic attack and the truth is, until your doctor runs a series of heart tests and labs, he or she may not know for sure. A full-blown panic attack is characterized by at least four of a long checklist of symptoms, including chest pain, shortness of breath, dizziness, trembling, sweating, and a feeling of choking. It's important to stress the vast majority of panic attacks don't cause heart attacks, but you certainly need to be aware of the symptoms. If you are experiencing symptoms like this and you don't know what's wrong, get to the ER!
E-mail to a friend


Background
Dr. Jordan Smoller, the study's lead researcher and an assistant professor of psychiatry at Harvard Medical School, talked to CNN.

CNN: We all use the phrase "You're going to give me a heart attack" if something is surprising, bad, etc. So isn't this intuitive?

Smoller: It makes intuitive sense; people just didn't have the data. People have previously shown panic attacks can have an impact on heart rhythm. Many of the symptoms of panic attack - shortness of breath, tightness in the chest - mimic a heart attack.

CNN: So you're saying the numbers are low, less than 5 percent, which is small. But Dr. Richard Stein of the American Heart Association says we're talking about a three- to fourfold increase, which Stein says is very significant.

Smoller: It has to do with relatively speaking; it's a three- or fourfold increase over women who didn't have panic attacks. But if the risk is 1 percent, it's a significantly relative increase, but the absolute numbers of women actually affected are relatively low.