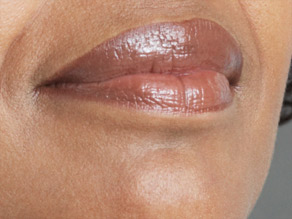 Dermatologists suggest using a lip balm with SPF 30 as a base layer under lip gloss or lipstick.
Overview
Go out in the hot sun, take a magnifying glass and focus concentrated sunbeams on your lips. That's what some dermatologists claim you're doing when you apply shiny lip gloss and go into the sun. The consequence may be an increased risk of skin cancer on your lips. Skin cancer of the lips accounts for 10 percent of all skin cancer cases, and 3,500 new cases of skin cancer of the lips are diagnosed each year.
Questions and answers
What are the telltale signs of skin cancer on the lips?
Elizabeth Cohen, CNN medical correspondent: Signs of skin cancer of the lips may been mistaken for sunburn or chapped lips. Symptoms include white or orange spots or discoloration, a sore or lesion that doesn't go away after a few weeks, or persistent peeling, flaking or chapping of the lips.
What if women still want "made up" lips in the sun -- are there safer alternatives?
Cohen: A number of dermatologists who have treated lip cancer suggest using a lip balm with SPF 30 as a base layer under lip gloss or lipstick. Better yet, ditch the lip gloss altogether and use matte lipstick, because it has more pigment than lip gloss, and it's more protective. Dermatologists also recommend looking for lip products containing the sunscreen titanium dioxide, or mixing your lipstick or gloss with zinc oxide to block UV rays.
E-mail to a friend


Background
Dr. Christine Brown, an American Academy of Dermatology Fellow at Baylor University Medical Center, Dallas, Texas: Skin cancers on the lip behave more aggressively than other skin cancers. It has to do with tissue organization in the lip area, where the lymphatic drainage patterns and vascular patterns are complex and rich. We know the rate of metastasis ... for skin cancer on the lips is actually three times higher compared with lesions on the skin.


All About Skin Cancer