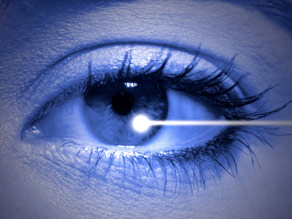 Gene therapy safely restored vision in three blind adults, according to University of Pennsylvania researchers
Overview
Researchers at the University of Pennsylvania announced in April 2008 the use of an innovative gene therapy treatment to safely restore vision in three adults with a rare form of congenital blindness. The technique involves an injection that delivers DNA to the nucleus of a cell so it can begin making the protein that the blind patients don't have. Although the patients have not achieved normal eyesight, the results set the stage for possible treatment of other retinal diseases.
Questions and answers
How can manipulating genes give blind people the ability to see?
Elizabeth Cohen, CNN medical correspondent: These people were blind because they were missing a certain protein that is essential for you to see. Researchers injected genes into their eye, and these genes went to the nucleus of cells and started making the missing protein. They gave three young adults in the study only one injection, but this was enough to make a big difference. Their vision was so bad that they couldn't navigate an obstacle course on their own or see letters on an eye chart. But six weeks after the injection, they were able to navigate the obstacle course perfectly. And they could read about 3½ lines of letters on an eye chart. They're still considered legally blind, but they can see a lot better than they used to.
Gene therapy has been done before with tragic results. Are researchers worried about any potential dangers with this therapy?
Cohen: There have been more than 5,000 patients involved in gene therapy studies since 1989, but there still aren't any approved therapies. There was one treatment that cured a rare immune disorder known as "bubble boy disease," but it came at a high cost: Leukemia developed in the children who received the treatment. The death of an Arizona teenager is the only fatality that has been definitively linked to a U.S. gene therapy study.
The difference with this eye treatment is that the DNA is being delivered directly to the eye. It doesn't go through the entire body. As far as side effects, these are people whose eyes are already incredibly damaged. So the risk of taking away even more of their sight is minimal. One patient did get a hole in the eye, but that was determined to be a side effect of the surgery rather than the therapy itself.
Background
CNN spoke with Dr. Janet Sunness, medical director of Hoover Services for Low Vision and Blindness at Greater Baltimore Medical Center in Maryland. Here's part of the conversation:
How do they insert the missing protein into the cells of the eyes?
Sunness: They inactivate a virus so it's not damaging to the person. But the virus can get the genetic material it's carrying into the cell. It's really breathtaking stuff. They attach the virus vector, attach normal copies of gene with it and carry it into the retina. And watch it as it grows.
They first tested this method in animals, right?
Sunness: They did 7½ years of follow-up with a dog. If you cover the treated eye, the dog is banging into everything. With the treated eye uncovered, the dog sees normally. Not only that, if you do testing of the retina, where you measure the responses of the various nerves, in the untreated eye, there was severe degeneration and reduction of responses. In the treated eye it was normal. That was really exciting.
Another expert, Jean Bennett M.D., Ph.D., a senior investigator at the F.M. Kirby Center for Molecular Ophthalmology at the University of Pennsylvania's Scheie Eye Institute, also spoke with CNN.
Were these people able to see normally after gene therapy?
Bennett: These people are severely visually disabled. We did not expect them after injection to read "War and Peace" in one night. We did not expect them to have 20/20 vision. But what they have gained has been incredibly impressive and significant.
Will giving them higher doses improve their vision even more?
Bennett: We do expect even more improvement with higher doses and more dramatic results as we move to younger people. The three people in this study all had severe loss of cells; a lot of the retina had died off due to natural progression of disease. As we move to younger people, there will be a lot more viable tissue there that's resuscitatable.
Can you use this therapy for other forms of blindness?
Bennett: We think it's a very exciting disease to start on because it is one of the most severe forms of retinal degeneration. The fact we're seeing such a dramatic effect indicates that this strategy is effective and that it may be possible to extrapolate the strategy to develop treatments for the many other forms of retinol disease, many of which are more common.
Dr. Katherine A. High of the Children's Hospital of Philadelphia, a study leader and an investigator for the Howard Hughes Medical Institute, shared these thoughts:
What does this mean for the future of gene therapy?
High: The goal of gene therapy is to do these kinds of treatments. When you think about output of the human genome project, which catalogued all the genes in our body, if we devise methods for missing genes, it can have profound implications for all kinds of disorders. This is an exciting beginning for a new type of treatment. It's not a small molecule drug, it's not a recombinant protein, but actually the gene itself.
E-mail to a friend


Background
For more, see the news release:The University of Pennsylvania's news release on the study