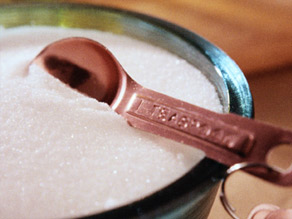 No-calorie sweeteners may actually make it harder for people to control their intake and body weight than sugar.
Overview
A February 2008 laboratory study from the American Psychological Association says the widespread use of no-calorie sweeteners may actually make it harder for people to control their intake and body weight. Here are tips on the healthiest ways to get that sugar fix without packing on the pounds.
Question and answers
How was this study done?
Elizabeth Cohen, CNN medical correspondent: This was a laboratory study in which they tested two groups of rats. They fed one group yogurt that contained glucose, or regular sugar. The second group ate yogurt that contained the artificial sweetener saccharin, which is what is found in Sweet'N Low. The rats that ate artificially sweetened yogurt consumed more calories and gained more weight.
The researchers say they believe they'd get the same results with other artificial sweeteners such as aspartame, sucralose and acesulfame K.
What do artificial sweetener companies say about this?
We called Sweet'N Low to get their thoughts on these findings, and here is what they had to say:
Sweet'N Low response from Marvin Eisenstadt of the Cumberland Packing Corp.: "Just because a rat eats something doesn't mean it is going to happen to people. It is complete nonsense. ... They should take that money used for this waste-of-time study and help the poor or find a cure for cancer."
Why would the rats that ate fake sugar be fatter than the ones that ate real sugar? We asked someone from American Dietetic Association that, and this is the way they put it: Your body wants sugar, so when you eat something that's sweet but has no sugar, your body gets confused. It wants that sugar kick and will crave it until it gets it. That is why the rats on saccharine kept eating and eating. They were never satisfied.
Should people stay away from sugar substitutes?
No, we are not saying that. Some people say these artificial sweeteners help them lose weight. And they're the obvious choices for diabetics. But be realistic. These sugar substitutes have been around for decades, and they aren't solving the obesity problem in America. While they can be a useful diet tool, it's important to count calories.
You'd be better off eating one real chocolate bar. It's a matter of satisfaction. Natural sugars and fibers and fats in foods are what make someone feel full and satisfied.
E-mail to a friend