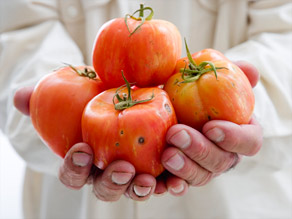 A diet rich in lycopene -- found in tomatoes, watermelon and pink grapefruit -- protects against prostate cancer.
Overview
Prostate cancer is the second leading cancer killer in men. More than 200,000 new cases will be diagnosed this year alone. But an article in the November 1, 2007, issue of the journal Cancer says that certain dietary factors affect the development of the disease. The authors, Dr. Neil Fleshner and Dr. Alexandre Zlotta from the University of Toronto, say there is promising data to indicate that soy, selenium, green tea and other compounds may help prevent the disease.
Questions and Answers
Can what men eat really prevent prostate cancer?
Elizabeth Cohen, CNN Medical Correspondent: It's not quite that simple. A number of things affect men's risk for prostate cancer, including genetics and just getting old. Your chance of having prostate cancer rises rapidly after age 50, and once you're over 60, researchers say you have a 60 percent chance of having prostate cancer.
But the American Cancer Society wants men to pay close attention to results of this study, which is really a progress report on a bunch of different studies. It finds that what you eat, and don't eat, can significantly influence your prostate cancer risk.
Let's look at what's good and what's bad: too much red meat and saturated fat are bad. The study finds high-fat diets increase the chances of your developing prostate cancer. Foods that are good are foods rich in lycopene, such as tomatoes, plus soy and green tea. The study found supplements with vitamins D, E and selenium also had a protective effect.
Two cautions: The American Cancer Society is saying that this study is interesting, but the group isn't making any new dietary recommendations for men. We spoke with independent cancer researchers who say it would be nice if we could tell men with a family history of prostate cancer that changing their diet could protect them, but we're just not there yet. But even detractors say that it's hard to argue against a heart-healthy diet.
What are the most important dietary changes a man can make to prevent prostate cancer?
Cohen: The lead researcher told us the most important things are to eat less red meat, more fruits and vegetables, and lots of lycopene-rich foods (tomatoes, watermelon, pink grapefruit). Nobody is saying yet to go out and take supplements, but you may want to consider working in some of the things that have shown a protective effect, including soy and green tea. The biggest thing according to researchers? Don't get fat. They gave us a tip that some fascinating research is coming our way about the link between prostate cancer and obesity, stressing it's really important to maintain a healthy weight.
How else can men protect themselves against prostate cancer?
Cohen: The importance of screening cannot be stressed too strongly. For prostate health, ACS recommends that beginning at age 50 all men should be offered both the PSA blood test and a digital rectal exam. Screening should start earlier, at age 45, for men considered high risk, including African-American men or men whose brothers, fathers or sons had prostate cancer.
E-mail to a friend


Background
CNN spoke to lead study author Dr. Neil Fleshner, M.D., M.P.H., FRCSC/Head of Division of Urology, Princess Margaret Hospital, University Health Network. Here is an edited transcript.

CNN: What are the key takeaway points in this very dense study?

Fleshner: Clearly lifestyle issues are easier to embrace, yes. There's no doubt things in our Western way of living are driving prostate cancer. If you look in other advanced nations with good cancer reporting, you see far less prostate cancer in Asia. Chinese or Japanese who move to the U.S. start getting same prostate problems. It's not a gene problem. It's a lifestyle problem.

Dietary fat is the best studied of all the foods. It's hard to do a trial on dietary fat.

With the obesity epidemic, the consumption of simple sugars with high glycemic index and obese men getting much more prostate cancer, it could be insulin converting slow-growing tumors into fast-growing tumors. It makes cells grow and divide faster. With all the obesity/diabetes problem, type 2 diabetes isn't a disease of insulin deficiency, it's a disease of insulin excess. ...

We need to eat less -- more complex carbs not simple sugars. Lower dietary fat, more tomato-based products.

The most common cause of death with men with early stage prostate cancer is heart disease. So this goes along way toward keeping them healthy.

Another important message: This diet is good for the heart, living as full a life for as long as possible.