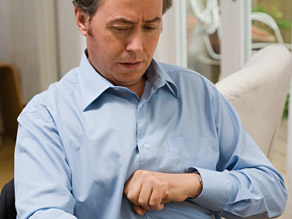 Chronic heartburn is a symptom of gastroesophageal reflux disease or GERD.
Overview
More than 60 million Americans experience heartburn at least once a month, and some studies suggest more than 15 million Americans have it each day. But how do you know if your heartburn isn't just heartburn? If you have a burning sensation, chest pains or a sour taste in your mouth, you may have GERD, or gastroesophageal reflux disease. Left untreated, GERD can lead to more dangerous ailments such as ulcers, cancer of the esophagus and scarring of the esophagus, also called "peptic narrowing."
Questions and answers
What can you do to treat these acid reflux problems?
Dr. Sanjay Gupta, CNN chief medical correspondent: Start with over-the-counter treatments such as Tums or Pepcid. But if you are self-medicating for heartburn two or more times a week, or if you still have symptoms while taking over-the-counter meds, then you need to see a doctor. A doctor can give prescription-strength meds for your GERD. Depending on the severity of your symptoms, your doctor may choose to do an upper GI or an endoscopy (tests that look inside your esophagus and stomach) to decide how bad it is.
You can also monitor which foods trigger these feelings and go easy on them, avoid lying down two hours after eating to prevent stomach acid from backing up and elevate your head about 6 inches when sleeping. A mattress wedge, available at most medical supply stores, works best for this.
What are some of the most common food contributors to GERD?
Gupta: Fatty foods, spicy food, chocolate, caffeine and carbonated beverages can all make your acid reflux worse.
Why is that?
Gupta: When you digest these types of foods, they actually irritate the damaged lining of the esophagus, which then triggers side effects such as the burning sensation in your chest, difficulty swallowing or sour liquid taste in your mouth. So, not loading on that extra hot sauce at dinner may actually help in managing the disease.
E-mail to a friend


Background
To tell whether you may have GERD, rather than just a little heartburn, visit the American College of Gastroenterology and take a
quick quiz
.