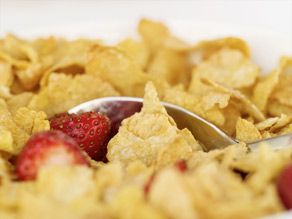 Some breakfast cereals, as well as breads and other grain products, are enriched with folic acid.
Overview
Research suggests that women who take folic acid supplements for at least one year before they become pregnant can cut their risk of having a premature baby by half. Researchers at the January 2008 meeting of the Society for Maternal-Fetal Medicine unveiled a study that suggests taking folic acid supplements for at least one year reduced early premature delivery rates by 50 percent to 70 percent, regardless of age, race or other factors. Of particular note is the drop in very early premature births. Those babies are at the greatest risk of complications such as cerebral palsy, mental retardation, chronic lung disease and blindness.
Questions and answers
What does this study show?
Dr. Sanjay Gupta, CNN chief medical correspondent: This study gives women even more reason to start taking folic acid, especially if they're trying to conceive. We already know it's important to take it before you get pregnant, and during the first three months of pregnancy, because it prevents serious birth defects in the brain and spinal cord. This study says it also prevents premature births.
Researchers asked 38,000 women whether they took folic acid before they got pregnant. Those that took it at least a year before conception had a 70 percent decrease in early deliveries -- meaning the first 20 to 28 weeks. There was also a 50 percent drop in premature births that happen later, when the fetus is 28 to 32 weeks old. The U.S. Public Health Service recommends women of childbearing age take 400 micrograms of folic acid daily. But only 40 percent of American women take daily multivitamins containing folic acid before pregnancy.
There's just no reason for women not to take folic acid. Consider this: 10 years ago, the FDA required folic acid to be added to foods such as cereal and bread. Since then, neural tube defects, including spina bifida, which is when the spine doesn't close all the way, have declined by 26 percent.
Can you get folic acid through foods alone?
Gupta: You can get folic acid in things such as leafy green vegetables, fruits, dried beans, peas and nuts. Enriched breads, cereals and other grain products also contain folic acid. If you don't get enough folic acid from the foods you eat, you can take a multivitamin. Most of them have the daily recommended dose of folic acid, which is 400 micrograms.
What other things should pregnant women consider?
Gupta: A visit to your doctor is really important. If you're thinking about getting pregnant, you should check for conditions such as high blood pressure, obesity and thyroid disease. Obesity is a risk for a woman and her baby. It can increase your risk of bleeding, high blood pressure and problems with the placenta. You want to be as healthy as possible so your pregnancy will go smoothly.
What are the dangers of premature births?
Gupta: Very small infants, the ones who are 1 to 3 pounds, are at much higher risk of dying. The further along you are in pregnancy, the more likely the baby will survive. Less than 37 weeks is considered premature. Premature babies area also at risk for cerebral palsy, blindness and deafness.
E-mail to a friend


All About Pregnancy and Childbirth • Vitamins and Supplements