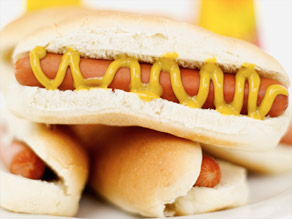 People who ate Western diet, high in red meat, fats, were more likely to have a recurrence of colon cancer.
Overview
People with diagnosed colon cancer who have received treatment and who eat a "Western diet," high in red meat, refined grains, fat and sugar, are more likely to have a recurrence of colon cancer and die from it, compared with patients who eat a "prudent" diet high in fruits, vegetables, poultry and fish.
In fact, patients who continued eating a diet containing low fiber, red meat, sugar and high fat had 3½ times higher chance of cancer recurrence and death. Experts say the prudent diet is a healthy option for most people and may help prevent recurrence and death in patients who have been treated for colon cancer. The study was published in the August 15, 2007, issue of the Journal of the American Medical Association.
Questions and answers
This study looked at people with colon cancer who have received treatment and are in remission. Does poor diet make their cancer come back?
Dr. Sanjay Gupta, CNN chief medical correspondent: The folks in this study were in this critical five-year window after surgery and chemotherapy, where there is a pretty high chance that the colon cancer will come back. People who ate a healthier diet during that critical five-year window had a much lower chance of their cancer coming back. These findings add to what we know: Diet does matter, and not just before you develop colon cancer but even after you've had surgery to get rid of it.
What is it about these foods that wreak so much havoc in the colon?
Gupta: There's not a lot of research out there about specific foods. But we do know that this group of foods -- a high-sugar, high-fat diet in general -- makes your insulin spike, which seems to contribute to the development of colon cancer and makes tumors grow faster and may affect how quickly cancer spreads.
What's the best diet for steering clear of colon cancer or keeping it from recurring?
Gupta: Try not to eat more than two servings of red meat per week, and make sure it's lean beef. Lower your intake of fatty foods, sugary desserts. Replace refined grains with whole grains, and eat more fruits and veggies.
E-mail to a friend


Background
CNN spoke with the study's lead author, Jeffrey A. Meyerhardt, M.D., M.P.H., in the department of medical oncology at the Dana-Farber Cancer Institute in Boston, Massachusetts. Here's an exchange from that conversation:

What are the biggest points in this study?

Meyerhardt: It's the first study in which we have looked at diet in a large group of patients who already have colon cancer. We know how diet affects the risk of developing cancer, but we don't have data with people who already have colon cancer and how diet affects their cancer. ... People with the highest levels of Western pattern diet had 3½ times higher risk of colon cancer recurrence and mortality.

MayoClinic.com: Colon cancer