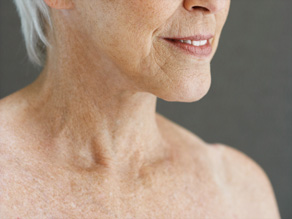 Scientists have found four mutated genes that are common among women with breast cancer.
Overview
Four flawed genes have been discovered by scientists studying the genetic underpinnings of breast cancer. Researchers looked at more than 50,000 women across four continents and found that genetic mutations were a common thread among those who developed breast cancer. The research was published in Nature in May 2007. The flawed genes are FGFR2, TNRC9, MAP3K1 and LSP1.
Questions and answers
If 50 percent of women have one of these flawed genes, will those women eventually get breast cancer?
Dr. Sanjay Gupta, CNN chief medical correspondent: Not necessarily. Remember BRCA1 and BRCA2, two genetic mutations for breast cancer that were discovered in the 1990s. BRCA1 and 2 are rare mutations, but if you have them, you have a very high chance (50 to 85 percent) of getting breast cancer. The mutations we're talking about here are just the opposite: More women have them, but the risk is pretty low that it will lead to breast cancer. Most of the risk in the population is not due to these specific genes. Breast cancer caused by genetic mutations still occurs in a pretty small percentage of women.
Does this mean we could one day have a test for breast cancer using these genetic mutations as a barometer of a woman's risk?
Gupta: Researchers told us there may be dozens, if not hundreds, more of these genes to find before they have any utility for testing or drugs. It's possible to one day use this data to find out more precisely a woman's risk of breast cancer, even other cancers, but not for several years. Remember that the study itself casts these genetic mutations as "modestly" increasing the risk of breast cancer. It's such early research, there's no telling if this is a big deal study or not.
For women concerned about breast cancer, what can they do today with this new information?
Gupta: It's important to remember that only about 5 to 10 percent of breast cancers are linked to genetics. Other important risk factors that contribute to getting cancer are lifestyle. Smoking, not having children, high-fat diets are still the biggest risk factors for developing breast cancer. The biggest things one can do are preventative. Healthy women aged 40 and over should get a mammogram once a year. This is an important message because a recent American Cancer Society study finds mammography rates are going down in the U.S. Other ways to reduce your risk for cancer include exercising, quitting smoking and eating healthier.
E-mail to a friend


Background
CNN spoke to Professor Douglas Easton of Cambridge University, the author of one of the three studies. Here's an excerpt from the conversation:

What's the significance of these studies?

Easton: What's significant is that for the first time, we've been able to look at the whole human genome for common genetic variation that's related to a common disease: common cancer. What this means for the future are two things: One is as we believe that we will identify more of these genetic mutations. Two, as more are identified, it may be possible to find more precisely what a woman's risk of getting breast cancer is.

What do these four genes mean in lay terms?

Easton: What we found was five regions of the human genome related to breast cancer. What's new? In the past, we knew of genes that confer a high risk of breast cancer. In the 1990s, we found the BRCA1 and BRCA2 mutations to be most important. BRCA1 and BRCA2 mutations are also very rare; not many people inherit them. But they confer a high risk of getting cancer. What's different about these new genes is that they're common in the population. They're responsible for a much higher proportion of breast cancer in a population.

Will this discovery lead to a test?

Easton: At the moment, the new genes found probably in themselves do not have a high enough risk to be immediately useful to create a test. But it could be possible to develop one in future. More importantly, as we identify more of these genes (and we believe many more out there, probably dozens or hundreds more), we may be able to identify people having high or low risk or somewhere in the middle (probably still two to five years away, though).

How would you find out if you had one of these genes?

Easton: The test would be easy to do. We studied 50,000 and were able to test quite easily all those women.

There are 20 different studies across four continents. An actual experiment, test on the DNA is quite easy to do. Technically, it's not difficult at all to do a test for these genetic mutations. But the reason it's far off is that it's not clear at this stage whether it's valuable to test with just these five particular genetic regions to look for. It's not clear that would be valuable to the women.

We need to know more about what happens when you have one of these genetic mutations. How do these risks, combined with other risk factors, make a difference? We need a period of further clinical research to determine whether a test is valuable or acceptable.

The other point to make from this: For the first time, this study tells us about new genes we had no idea had anything to do with breast cancer. This is something completely new about biology of breast cancer we didn't suspect. It may give us a handle on the underlying disease process and may lead to new treatments or preventative strategies for breast cancer and points the way to how to find other genes for breast cancer and other cancers, strategies for finding all common genes for common cancers.