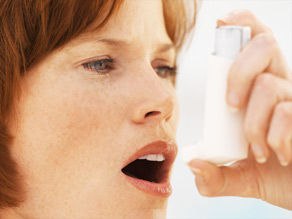 Doctors advise avoiding triggers of asthma symptoms, using your medicine, and knowing your symptoms.
Overview
Asthma affects 22 million Americans. It can cause wheezing, breathlessness and coughing. Asthma attacks are preventable, but they cannot be eliminated. Even though the condition is treatable, thousands die from complications each year. The National Institutes of Health provides guidelines for helping asthmatics cope with their illness. These guidelines, released in August 2007, include an "asthma action plan" for parents and schools, and recommendations to help keep asthmatics healthy.
Questions and answers
What causes an asthma attack?
Dr. Sanjay Gupta, CNN chief medical correspondent: There are a number of triggers that can inflame a person's airways and bring on an attack: allergens including pollen and animal dander, or environmental irritants such as cigarette smoke and air pollution. Even exercise can prompt an asthma attack. Every day, there are 5,000 asthma-related emergency room visits and 11 deaths. There's no cure, so getting the proper treatment is crucial.
What are the symptoms of asthma?
Gupta: There are several symptoms: coughing, wheezing, tightness in the chest and shortness of breath.
What can be done to treat asthma?
Gupta: There is no cure. But the symptoms can actually ease up, giving asthma patients a false sense of hope. When the symptoms go away, a lot of patients think they can give up their medicine. Doctors say that's not good, because an asthma attack can strike at any time, and if it's severe enough, it can be dangerous. That's why the recommendations stress that patients continue to take their medicine. Also, elderly people can develop asthma as they get older. But doctors find that most older asthmatics usually had asthma when they were younger, and the symptoms went away and then they came back later in life.
Here are some things you can do to treat it: Avoid the triggers that cause your asthma symptoms or make them worse, use your asthma medicine (shots, inhalers, etc.), and know your symptoms so that you can react and treat quickly.
What is an "asthma action plan," and why is it necessary?
Gupta: An "asthma action plan" is something that parents and schools in particular should have in case an asthmatic student has an attack. The home plan should include instructions for daily treatment and ways to recognize and handle worsening asthma. For schools and other public places, the plan would include warning signs that would indicate when someone might be having an attack. School officials should know where the child's inhaler can be found. According to experts we talked to, many schools ignore a federal law allowing students to carry their inhalers because they frown on students bringing in medication to school. But an inhaler can mean the difference between life and death to some kids.
Should doctors treat all asthmatic children the same?
Gupta: At one time, pediatricians thought so, but the recommendations have now broken children into three categories: infants to 5-year-olds, schoolchildren up to 12 and children 12 and older. The reason for breaking them into three groups is simple: Younger children don't know how to express their symptoms as well as older children. Symptoms of asthma are similar to other lung ailments. So doctors need to be careful. Pediatricians say the best way to diagnose asthma in a young child is with a simple questionnaire called an Asthma Control Test, which is designed to pinpoint a real asthmatic. Then, when children enter school at age 5, they can be faced with other factors that trigger their asthma, and doctors and parents need to identify those. As children get older, their symptoms can diminish, but doctors need to make sure that these patients stay on their medication to avoid complications.
E-mail to a friend