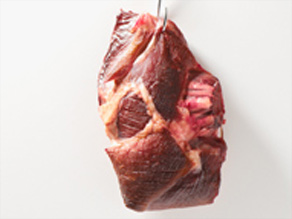 Eating two servings of meat per day increases the risk of metabolic syndrome by 26 percent, experts say.
Overview
A study says eating too much red meat can increase your chance of getting conditions that lead to heart disease and diabetes. Middle-aged people who ate at least two servings of meat per day increased their risk of metabolic syndrome by 26 percent. The research was published in the January 22, 2008, issue of Circulation.
Questions and answers
What did the study find?
Dr. Sanjay Gupta, CNN chief medical correspondent: This study says metabolic syndrome is a problem in the United States because of the way we eat: lots of red meat, lots of processed meat, and too much fried food. Researchers found eating two servings of meat per day, such as burger patties, increased the risk of metabolic syndrome by 26 percent. Forty-seven million Americans have metabolic syndrome, which means they have at least three risk factors for heart disease and diabetes. These include conditions such as obesity, high blood pressure, high sugar levels, and either too much bad cholesterol or too little good cholesterol.
Red meat isn't the only factor. Fried food led to a 25 percent greater risk, and diet soda increased the risk by 34 percent. This was unexpected, and it will require more research to explain. When it comes to red meat, the study doesn't say you should stop eating it. Just don't eat too much of it -- less than three servings per week. Red meat is an excellent source of iron, which is good for making red blood cells. And it has Vitamin B-12 -- you need this to keep your nerve cells healthy.
So how do we lower our risk of getting metabolic syndrome?
Gupta: This study found that dairy seemed to decrease the risk of metabolic syndrome by 13 percent. People who consumed three servings of dairy per day had lower risk when compared with people who had it only twice a week. You can also lower your risk factor by eating lots of whole grains, plenty of fruits and vegetables, and by exercising and not smoking.
Are there other foods you can eat besides red meat to get protein?
Gupta: Try eating fish or white meats such as chicken breast. These are lower in saturated fat, a food component that leads to high cholesterol. You can also get protein from beans, peas and lentils. Nuts are also a good source of protein.
E-mail to a friend


Background
CNN spoke to study researcher Lyn Steffen, Ph.D., of the University of Minnesota. Here's an excerpt from the conversation:

CNN: Please talk about the most significant findings in this study.

Steffen: The most important finding is that the Western diet pattern promoted increased risk of metabolic syndrome. ... I'm a nutritionist, and I highly encourage people to eat a healthy diet. The most important message here is to eat a variety of food. It's not necessarily cutting things out. Red meat does have its virtues. Cut down the number of times you eat it per week.

CNN: Why did risk increase with diet soda consumption?

Steffen: I can speculate. The first speculation: Number one, there's some sort of chemical in diet soda that might promote insulin resistance. Or, number two, there could be some kind of behavior associated with diet soda drinkers. Maybe people play games with themselves: "I'll have this diet soda. It's zero calories, and I'll have my chocolate chip cookies." We need to study this further. They probably need to do some basic science studies to see what diet soda does for metabolism. We adjusted for all food behaviors, for physical activity, for smoking. Maybe there's something we did not think of -- another character we didn't put in our model.

CNN: The National Cattlemen's Beef Association criticizes your study.

Steffen: I'm not telling people to quit eating meat. I think the bottom line of the study is that the U.S. population should eat according to the dietary guidelines for Americans. They recommend eating five to nine servings of fruits and vegetables per day, three or more of whole grains per day and a couple more servings of refined grains, a few servings of protein foods -- meat is included. Choices like fish, poultry, eggs, legumes -- I think people need a variety of those, as well as low-fat dairy products. I am not suggesting that people quit eating meat.

Statement from National Cattlemen's Beef Association

This study is limited because it analyzes very few food sources in the diet, including the study's inability to distinguish between refined and whole grains. Many better-controlled studies have concluded that a healthy dietary pattern that includes frequent consumption of lean beef, whole grains, fruits, vegetables and low-fat dairy can positively affect factors associated with metabolic syndrome, such as decreasing belly fat, improving lipid levels, and improving blood glucose levels. Extensive research continues to show it's how you live and eat, not one single food, that matters most in preventing disease, and this study does not change those findings.

-- Mary K. Young, M.S., R.D., vice president for nutrition, National Cattlemen's Beef Association