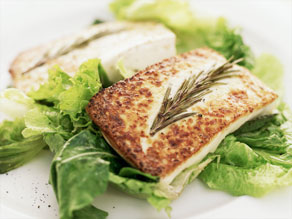 The women who lowered their fat intake also lowered their estrogen levels in this study.
Overview
A low-fat diet may reduce the risk of ovarian cancer in healthy postmenopausal women, according to results from a Women's Health Initiative study from October 2007. One in 60 women will get ovarian cancer, and more than 15,000 will die from it this year. Until now, little research has shown what women can do to lower their chances of getting this deadly disease. The study suggests a small reduction in overall cancer risk among the women who ate less fat.
Questions and answers
What does this study say about a low-fat diet and ovarian cancer?
Dr. Sanjay Gupta, CNN chief medical correspondent: This study found a 40 percent reduction in ovarian cancer in post-menopausal women eating a low-fat diet for over four years. That's a diet where women decrease their fat intake to 20 percent of total calories, and they load up on fresh fruit, vegetables and whole grains.
The length of time is important -- these results were for women following a low-fat diet for over four years. This is a lifestyle change rather than a temporary fix or diet. Also, the women who had the highest fat intake when they started a low-fat diet lowered their risk of ovarian cancer the most, of all the women studied. Although this is the first study looking at the link between fat intake and ovarian cancer, other studies have linked a low-fat diet to a decreased risk of breast cancer and colorectal cancer.
So what's the link between fat and cancer?
Gupta: Ovarian and breast cancer are both estrogen-sensitive, and researchers believe that eating high-fat foods affects the amount of estrogen in your blood, and this is at all ages, not just for women over age 50. The women who lowered their fat intake also lowered their estrogen levels. This resulted in an overall decrease in risk for ovarian and breast cancer.
We know that ovarian cancer is often diagnosed too late in women. What are some signs to look out for?
Gupta: In the early stages, ovarian cancer has no outward symptoms. But as the cancer progresses, women may experience symptoms such as pressure or pain in the abdomen or pelvis, swollen or bloated abdomen, nausea, indigestion, and feeling very tired all the time. Ovarian cancer is usually not detected by a routine gynecological screening. It does not show up in a PAP test, so it's really important to point out these symptoms to your doctor as soon as you notice them. Early detection is the key with most cancers, and ovarian cancer is no exception because there aren't a lot of effective treatment options. One expert we talked to named ovarian cancer as the "silent killer" for women, so watching for these minor symptoms can really help.
We often hear experts telling us to eat "good fats" and stay away from all the "bad fats" in your diet. Does the type of fat you eat really make a difference?
Gupta: That's right. There are different types of fat in our food, and we know that heart disease is linked to specific types of fat, such as saturated and trans fat. But with cancer, there is a benefit with decreasing your overall fat intake. Replacing some of the fatty food in your diet with fresh fruit, vegetables and grains is really the best bet for maintaining a healthy body. A good rule of thumb for the average person is to reduce fat intake by about one-fifth of what they're currently eating.
E-mail to a friend


All About Ovarian Cancer • Diet and Nutrition