By Patrick Sauer






Most people with pacemakers or implanted defibrillators enjoy their iPods or other MP3 players just as much as anyone else, but a new study suggests they should be cautious about where they store the headphones.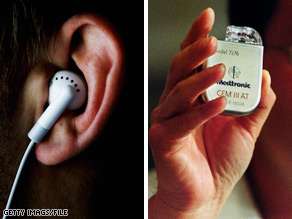 Magnets in earphones could affect heart devices such as a pacemaker, right, a new report says.
The headphones contain magnets that could potentially cause interference if placed directly on the chest above the heart device, according to a report presented in November at the American Heart Association meeting in New Orleans, Louisiana.
"For defibrillator patients, it is a much bigger concern because the magnet can temporarily deactivate it," says the study's senior author, Dr. William H. Maisel, director of the Medical Device Safety Institute at Beth Israel Deaconess Medical Center in Boston, Massachusetts.
Pacemakers are designed to boost slow heart rhythms, and when exposed to magnets, they may deliver signals that tell the heart to beat faster, whether it needs to or not.
About 250,000 people in the United States each year are given pacemakers. An additional 125,000 receive implantable cardioverter defibrillators, or ICDs, which can shock the heart back into a normal rhythm.
In the new study, the researchers attached eight types of headphones to iPods and tested them on 60 patients with ICDs. The earphones were either earbuds or clip-ons, not the larger noise-canceling varieties favored by business travelers and disc jockeys.
The headphones were placed on the chests of patients, directly over the ICDs. Electromagnetic interference occurred in 14 patients, or 23 percent. There weren't any problems if the headphones were 3 centimeters, or about 1.2 inches, or more above the skin's surface.
Maisel said patients with pacemakers and ICDs are told that magnets can interfere with the function of their implants, but they may not be aware that headphones contain the magnetic substance neodymium, which helps with sound reproduction.
The magnetic strength of the headphones varies by brand and model, but the study found that 3 centimeters was a safe distance for all.
When in use, headphones are a safe distance from the implanted device. However, Maisel said pacemaker and defibrillator patients shouldn't tuck them in their front pockets, drape them over their shoulders or allow a loved one to rest his head on their stomach while mellowing out and listening to an iPod.
However, not all experts are convinced that MP3-player headphones pose a hazard to heart implant patients.
Karol Watson, MD, PhD, co-director of preventative cardiology at UCLA, said that the study is theoretical and needs more data to show the risk is real.
At one point, for example, it was thought that digital music players, such as iPods, could interfere with pacemakers; later studies, including one by the U.S. Food and Drug Administration, later refuted that claim.
"There's no reported cases in the headphone study," Watson said. "Plenty of people with implanted cardiac devices listen to iPods, so if there was something there, we would have seen it."
Other research presented at the meeting suggests that most devices do not affect the implants in a significant way, even if they sometimes produce electromagnetic interference in a laboratory test.
They include products and devices such as Bluetooth headsets used with cell phones, handheld metal detectors used by airport security, iPods, iPhones, electric blankets and pills that are swallowed and used to image internal organs by transmitting wireless data.
E-mail to a friend

Try a FREE TRIAL issue of Health - CLICK HERE!
Copyright Health Magazine 2009
All About American Heart Association • Cardiology • Apple iPod