By Madison Park
CNN
(CNN) -- When a woman goes through breast cancer treatment, the shape of her chest changes, hair falls out and eyebrows thin. She'd probably tell you she's had better days.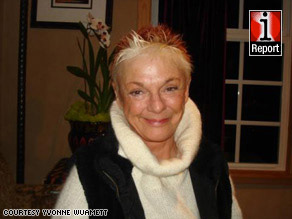 Through heartbreak and pain, Yvonne Wuamett survived her fight against breast cancer in 2006.
But the physical changes she faces often are rivaled by threat she feels to her femininity and her relationships.
Yvonne Wuamett's boyfriend's left her for a younger woman. Jan Rabinowitz's former husband asked her why she was upset.
In times of breast cancer, men may seem insensitive about what women want. It's hard to find the right words or gestures to comfort loved ones.
Feeling useless is frustrating for men, said Marc Silver, author of "Breast Cancer Husband," a book that explores the disease's effects on relationships.
"They want to jump in and fix it, which is a recipe for disaster because it's your wife's disease," he said.
One out of eight women will develop breast cancer some time during her life, according to the National Breast Cancer Coalition.
"Some guys have a hard time with illness or they don't want to make a sacrifice of fighting cancer," said Silver, who interviewed nearly a hundred couples. "That's when the marriage gets into trouble. Some guys are like Boy Scouts. They're there at the doctor's appointment. It's like you're at a war together, and you come out with a stronger marriage."
A former Playboy bunny experiences heartache
Wuamett, a former Playboy bunny, was in a 10-year relationship with a neighbor in Duvall, Washington, until she discovered a hardened lump in her breast in 2006.
After telling her boyfriend about the breast cancer, she was stunned at his reaction. "He thought he could catch it. He thought it was absolutely dreadful, horrible. He ran into someone else's arms," she said.
While ill, Wuamett begged her boyfriend to come back. "I was retching and puking on my own. That was really the low point. The hardest part was my heart was absolutely broken. You feel rejected. You feel like something is wrong with you," she said.
Some men can't face the drastic changes to a woman's body and an emotionally exhausting journey, and they opt to leave.
"What drives some stories is the negativity, but by far and away, most men are there," said Marc Heyison, founder of Men Against Breast Cancer, a nonprofit based in Maryland. "Men are incredible caregivers."
Men Against Breast Cancer holds conferences and offers Partners in Survival workshops and guidebooks for couples.
"She needs to know you love her and you're going to be there," Heyison said. "What they should say is, 'I love you, I'm going to be there for you. What can I do to help?' "
Finding acceptance
Even if partners stay, they can check out emotionally.
"The cancer just really pinpointed the issues that were causing the problems between us," said Jan Rabinowitz of Atlanta, Georgia, about her first marriage.
"I became very emotional, where I had not been. He didn't know me as an emotional person. That was much harder for him to deal with."
She was frightened by the diagnosis because terminal cancer ran in her family. After she had a mastectomy in 1984, her husband asked if she was considering breast reconstruction.
"I was hurt he was interested about that," she said. "Months went on, and it just seemed like things weren't getting better with my husband. I'd be upset and he'd say, 'Why are you crying? You have to have a stiff upper lip. Just keep going."
Sometimes, patients want to vent, Silver said. iReport.com: Your stories of coping with breast cancer
"The motto should be 'Shut up and listen,' " Silver said. "She might want to complain and your instinct is to cheer her up, sometimes it's not helpful. ... Sometimes it's important for a patient to say this sucks. It's OK to have a range of emotions; that's part of coping with the disease."
Rabinowitz wanted to get counseling, but her husband didn't want to go. Their words became few, their conversations terse. Their marriage cooled to silence and ended in divorce.
In 1989, Rabinowitz married another man who had "a whole different view."
"I felt much more accepted as I was, with my current husband," she said. "If you have to have a mastectomy and you don't have reconstruction, you have a scar. You have one breast. I am very grateful that my husband doesn't care one bit. I'm not sure if it was the other way around, I could be so accepting." Hear the women talk about surviving breast cancer
Some choose to stay
After two bouts with breast cancer, Donna Charpied had a double mastectomy in 2006. She credits her husband for handling the situation well.
Charpied recalled her husband saying: 'It's your body. I'm going to love you. I don't care if you go for reconstruction. I always told you, I'm a butt guy anyway."
Not everything was rosy in their home in Manorville, New York. At times, her husband was on edge, unsure of her mood or what to say to her. Sometimes she viewed her husband's offer to help with the chores with suspicion. She wondered if he was offering to help clean because she wasn't doing a good job.
"It's a very difficult time for the spouses," Charpied said. "It's more difficult on them than the person who has the cancer themselves. The person who has the cancer knows there are certain steps they have to go through to give themselves a chance to get better. It's harder on the other person. It's like walking on eggshells. They're thinking, 'Is this the right thing to say? Is my wife going to chop my head off?' "
They found a balance at the doctor's office. Charpied was more emotional while her husband was the logical one, who researched, asked questions and knew statistics.
The doctor's office is a place where couples can play off each other's strengths, so partners should attend medical appointments, Silver said.
"There's so much info that's given out during a particular visit, it's hard for a patient to hear, process and remember it all," Silver said. "If you have someone to take notes, hold your hand, it's the little things that make the difference."
E-mail to a friend

All About Breast Cancer • Relationships • Marriage • Mastectomy