By Elizabeth Landau
CNN
(CNN) -- Marget Wincent has never met Sarah Palin, but she hopes the Republican vice presidential candidate will respond to her recent e-mail. Wincent said she encouraged Palin, whose son Trig has Down syndrome, to "get that little guy on skates when he's a couple years old, and enjoy those snowmobile rides."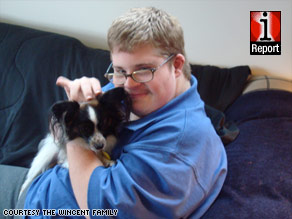 Zach Wincent, now 19, works at Target near his family home in St. Charles, Illinois.
"Sometimes you're scared as a parent, and you wonder if your child is going to be able to do this and this and this," Wincent said recently. "And you know what? You just go out and try it, and you live each day at a time, and you celebrate all the great things that happen."
Wincent's own son Zach, now 19, also has Down syndrome. But the genetic disorder, which causes intellectual disabilities and other difficulties, has not prevented "Zach Attack" from enrolling in community college, climbing the Great Wall of China, coaching hockey games or becoming Prom king in high school.
As many as 6,000 babies are born with Down syndrome every year in the United States, according to MayoClinic.com. People with Down syndrome have extra genetic material from the 21st chromosome, the result of abnormal cell division during development.
Life with Down syndrome has changed dramatically in the past century. In 1929, the average life expectancy for a person with the condition was 9 years, but today, it is 58 to 60, said Nicole Schupf, associate professor of clinical epidemiology at Columbia University Medical Center.
Before a movement started in the late 1960s, people with Down syndrome were shut away in institutions, she said. Now, children with the conditions are integrated into the schooling system, and adults are able to live by themselves, said Schupf. She also studies the connection between Down syndrome and Alzheimer's disease, which she said is strong.

Learn more about Down syndrome »
Don't Miss
"People who were born a long time ago who are now in their 60s and 70s, with Down syndrome, although there are very few of them, really didn't have the benefit of all the newer advances in medical treatment and in rehabilitation that have made the people who are being born with Down syndrome now much more independent, much higher-functioning," she said.
Marget Wincent, a pediatric therapist in St. Charles, Illinois, who has worked with disabled children for 27 years, did not know about her son's condition until after he was born. He had a strong heart, walked at age 2 and signed at 18 months, which told her that he would be able to speak soon afterward.

See more stories from parents of children with Down syndrome »
Growing up, some children were kind to him, but other kids in the neighborhood made fun of her son, Wincent said. She believes that this came from lack of understanding of disabilities. She would tell these children that her son is a person just as they are and would follow up with phone calls to their parents.
Zach's adopted sister Zoe, now 14, stands up for him too, Wincent said.
"That's a really important role that families play in society: helping everybody else understand that everyone has feelings; everyone has a right to belong; everyone has to be accepted. You don't have to be his friend, but he sure deserves respect just like everyone else," Wincent said.
She credits the teachers who were "out-of-the-box thinkers" for helping her son in school. Sometimes he needed a simple intervention to make school easier for him: For instance, in a middle-school science class, he just needed someone to retype the worksheets in a larger font because he reads slowly and has visual problems, she said.
To teach him about business, Zach's mother collaborated with him in selling wristbands stamped with positive messages such as "I CAN" and "DREAM BIG" when he was 16. Zach got to put orders together and pack them for shipping. They still have extra, ready for a potential fundraiser in the future, she said.
Entrepreneurship is the newest wave of employment for people with disabilities, Wincent said. When her son is a little older and wants more ownership over his work, she hopes to help him start a small business. Both she and her husband have had their own businesses, she said.
In high school, Zach became good friends with kids on the ice hockey team and became an assistant coach his junior year. He will again coach the alumni game in December, when college-age graduates return to the school to play against the varsity team.
"I have to get them in shape," he said. "I have a huge, huge hockey family."
These days, Zach attends a special-needs program at Elgin Community College and lives at home. His mother said she hopes that after the two-year program, he will be able to attend another school and live on a college campus
He also works at Target, supporting the cashiers. Although some students with special needs get placed in quiet office jobs, Zach loves people and activity, and Marget thought he would enjoy the job.
Zach said the job is "great" and involves stacking groceries, helping the customers, loading grocery carts and taking the carts out to the parking lot.
The Wincents have learned to appreciate the little things and celebrate them, Marget said. Sometimes when she goes shopping with Zach, he'll put a bouquet of flowers in the cart. In the middle of winter, he might go into the dining room, take out a tablecloth and say that the family should eat in there.
"It's just the unexpected things that he comes up with which tell me he's thinking and caring about the family," she said. "Those are the things that are touching to me."
One of Zach's dreams is to become a dancer in Disney's "High School Musical" franchise. He performed in a local production, and now he's planning to submit a video for a Disney-sponsored fan contest.
"It's not about winning or losing. Just have fun," he said.
As for politics, Wincent said she wouldn't vote for McCain-Palin just because Palin has a child with Down syndrome, but the Illinois mother also feels that her state, in which Democratic presidential candidate Barack Obama is a senator, has failed to deliver adequate services for people with disabilities.
"I'm still trying to sort it all out," she said.
E-mail to a friend

All About Down Syndrome • Sarah Palin