(CNN) -- All children 6 months to 18 years old should receive the flu vaccine this year, federal officials said Monday, offering protection to an additional 30 million children.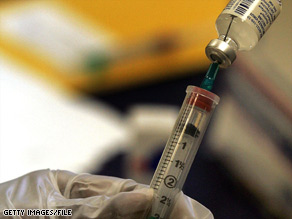 The Centers for Disease Control and Prevention aims to vaccinate 261 million people this year.
The previous recommended age group was 6 months to 5 years.
The age group was expanded this year because children are two to three times more likely to contract the disease than are adults, said Dr. Renée Jenkins, president of the American Academy of Pediatrics.
At a news conference in Washington, federal officials also discussed how the formulation for the vaccine was changed for this flu season. Each vaccine consists of three flu strains, but two of the strains proved ineffective last season.
This year, all three viral strains are new, said Dr. William Schaffner, president-elect of the National Foundation for Infectious Diseases.
"This is an unusual but not unprecedented event," he said. "Fortunately and delightfully, we have an ample supply this year. People should start taking it now. There's no reason to wait."
The Centers for Disease Control and Prevention aims to vaccinate 261 million people this year, said Dr. Julie Gerberding, director of the CDC.
In an average year, 60 million Americans get the flu and 36,000 die from complications. The elderly have the greatest risk of death.

Watch and learn more about the flu vaccine »
Health Library
In addition to a flu shot, health officials urge all people 65 and over to get a vaccine against pneumonia. The pneumococcal polysaccharide vaccine can be received at the same time as the flu shot and needs to be taken only once, said Dr. Kristin L. Nichol of the Minneapolis Veterans Affairs Medical Center.
Children can receive a three-dose pneumococcal conjugate vaccination, Nichol said.
Last year, she said, 40,000 people contracted streptococcus pneumonia and 4,500 died.
After shortages of flu vaccines in previous years, officials stressed that there will be an abundant supply this year. Officials expect up to 146 million doses to be made this year by six manufacturers, said Jennifer Corrigan of the National Foundation for Infectious Diseases. Nearly 113 million doses were manufactured last year.
"Given the robust supply," Gerberding said, "the emphasis this year is to get out there and get coverage."
The vaccine is 70 percent to 90 percent effective in healthy adults, said Dr. Dan Jernigan, deputy director of the CDC's influenza division. And the vaccine has been effective for 16 of the past 20 years, he said.
The CDC says the following people should receive flu vaccines this year:
• Children 6 months through 18 years old.
• Pregnant women.
• Anyone 50 or older.
• Patients of any age with certain chronic medical conditions.
• Residents of nursing homes and other long-term care facilities.
• Those who live with or care for people at high risk for flu complications.
This year's formulation consists of three viral strains: Influenza A/Brisbane/59/2007 (H1N1), Influenza A/Brisbane/10-2007 (H3N2) and Influenza B/Florida/4/2006.
The strains must be chosen eight months in advance to give manufacturers enough time to make an adequate supply and distribute the doses for the flu season. That means there is always a question about whether the viruses in the vaccine will match those circulating in the community.
Health officials are confident that they do this year because investigators have improved their ability to gather more sample viruses from more places before developing the vaccine formula.
Also, Gerberding said, health officials are keeping track of how the disease unfolds in the Southern Hemisphere, where the flu season occurs about six months earlier.
"Last year at this time, we had indications that the vaccine might not be as effective," Jernigan said. "This year, we have no such indication."
In addition to a flu shot, a nasal vaccine mist is available for people ages 2 to 49.
E-mail to a friend