By Andrea Kane
CNN
ATLANTA, Georgia (CNN) -- A nagging injury almost kept 41-year-old Dara Torres from competing in her fifth Olympics in Beijing, China. Instead she swam through the pain to capture three silver medals.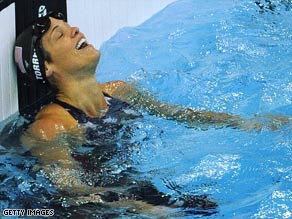 Swimmer Dara Torres earned three silver medals this month, bringing her Olympic medal total to 12.
On Wednesday, she undergoes arthroscopic surgery in Florida to repair damage to her right shoulder.
Dr. Joseph Chalal of Performance Orthopedics of the Palm Beaches will perform a distal clavicle resection, or shaving the outer end of the collarbone to smooth it down. Chalal has been treating Torres since just after the Sydney Olympics in 2000.
"Dara had surgery in November 2007 to remove bone spurs and repair a partial tear in her rotator cuff," Chalal told CNN before Torres' surgery. "She was doing quite well, but over time she developed this degenerative arthritis problem in the AC joint." The AC, or acromioclavicular joint, at the top of the shoulder, joins the collarbone to the shoulder.
Chalal said that at the start of this year, Torres, who maintained a grueling training schedule in the run-up to the Olympics, received cortisone injections and started taking anti-inflammatories. "We obviously couldn't do surgery then," Chalal said, because it was too close to the competition.
Torres, the first Olympic swimmer to compete in five games and the first woman swimmer to compete after the age of 40, told CNN that while in Beijing she began having intense shoulder pain, so severe that she thought she might not be able to compete. She called Chalal, who suggested several options. But the anti-inflammatories didn't work. Neither did Torres want to receive a shot of cortisone nor have her shoulder anesthetized.

Watch Dr. Sanjay Gupta's report from inside Dara Torres' operating room »
Instead, Torres just swam.
Her strategy paid off: In Beijing, she earned three silver medals and broke her own American record, set when she was just 15. She has a total of 12 Olympic medals spanning 24 years over three decades: 1984 (when she was 17), 1988, 1992, 2000 and 2008.
But once home from the Olympics, it was time to face the music or, in this case, the surgeon.
"We basically remove the area of arthritis and create a space so she is no longer pinched off by the spurs," said Chalal, describing Wednesday's surgery, known to surgeons as a Mumford procedure. "There's immediate relief after the surgery and recovery is quite quick."
The Florida mother of a toddler faces four to six weeks of physical therapy. But Torres and her surgeon said she'll be back in the pool in 10 days.
Chalal said that Torres can get back to training at that time. "The goal would be by six weeks to be back to full activity," he said. "This is a great way of relieving her discomfort and allowing her to resume the activity she'd like to in a pain-free way."
E-mail to a friend

CNN's Matt Sloane contributed to this report.
All About Dara Torres • Summer Olympics