By A. Chris Gajilan
CNN Medical producer
LOS ANGELES, California (CNN) -- Actress-comedian Teri Garr may be best known for her roles in iconic 1980s films "Mr. Mom" and "Tootsie," but in the past few years, she's probably done as many interviews focusing on her health as on her acting career.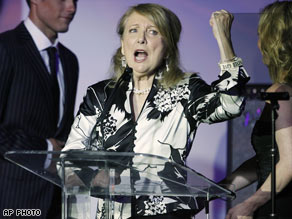 Teri Garr speaks in May at Race to Erase MS, an annual multiple sclerosis fund-raising event.
"Those were two of my favorite movies and they were about role reversal," says Garr. "How come women are treated differently from men all the time? Not only handicapped people, but women -- and handicapped women forget it!"
The words "handicapped" and "disabled" are not new to Garr. In 2006, Garr suffered a ruptured brain aneurysm that almost killed her.
"I went to sleep to take a nap and my daughter couldn't wake me up. So, thank god she called 9-1-1 and they rushed me to the hospital," recounts Garr whose daughter, Molly, is now 14.
Garr was in a coma for a week and remembers nothing from that time period. But months of rehabilitation and recovery are still fresh in her mind, as is the impact it had on her daughter.

"She had to write an essay at school about something very meaningful ... and she wrote about 'my mother's aneurysm.' And I read this thing and I cried. I had no idea that it affected her so much."

Dr. Sanjay Gupta reports on Teri Garr's recovery »
The brain aneurysm wasn't Garr's first major health battle. Unrelated to the aneurysm, she has spent decades dealing with an elusive disease that affects 400,000 Americans. She began to feel mysterious symptoms on the set of 1982's "Tootsie." Her role would later be nominated for an Academy Award for Best Supporting Actress.
Don't Miss
"I had no idea. I just felt tingling. Actually, I felt buzzing in my foot ... and then when I was jogging also, I would get this horrible pain in my arm like a knife stabbing and I thought well I'm in Central Park -- well, maybe it is a knife stabbing me, but it wasn't," jokes Garr.
Various diagnoses and dozens of doctor visits later, Garr says the health mystery was finally solved 17 years after she first experienced symptoms. In 1999, she was diagnosed with multiple sclerosis, or MS, a chronic and often degenerative disease of the central nervous system including the brain, spinal cord and optic nerves. There is no cure.
It was a difficult diagnosis for Garr who started her career as a dancer on the "Sonny and Cher Show" and in films starring Elvis Presley and Annette Funicello. For years, she kept her illness secret despite rumors swirling around her intermittent limp.

"I was trying to work but I noticed that people, if they had any inkling of the idea that I was sick or had MS, ... people shunned me. No work after that," she said.

At times she has been wheelchair-bound or needed a cane to get around. According to the National Multiple Sclerosis Society, two-thirds of people who have MS remain able to walk.
"I call it the scum sucking pig of a disease that treats everyone differently," says Garr, who wrote about her experience with MS in "Speedbumps: Flooring It through Hollywood." With typical Garr humor she says the original title was going to be "Does this Wheelchair Make Me Look Fat?"

"Some people don't get any symptoms, but I wasn't one of them," she said.

Since going public with her diagnosis in 2002, she has served as a chair of the National Multiple Sclerosis Society and a paid spokesperson for an MS treatment medication.
Health Library
"There are several drugs out right now that can't stop multiple sclerosis, but they can slow it way down," says Garr who has also suffered side effects. "They also made me puff up like a balloon. So I looked horrible. I hated that."
Now 63, Garr says she feels fine except for some weakness in her right arm and right leg. She exercises at least an hour a day and says comedy keeps her going.
"My next book's title is going to be, 'I Have One Foot in the Grave and Another on a Banana Peel.' "
This summer, audiences can catch up with Garr in two new independent films, "Expired" and "Kabluey."
E-mail to a friend

All About Multiple Sclerosis • National Multiple Sclerosis Society