By Danielle Dellorto
CNN Medical Associate Producer
ATLANTA, Georgia (CNN) -- As 3D images illuminate the viewfinder, a joystick delicately maneuvers a pair of robotic arms. It may sound like a video game, but Dr. Nikhil Shah is actually performing cancer surgery.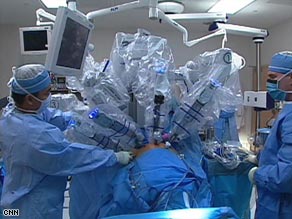 Robotic surgery allows for smaller incisions, reduced blood loss and much greater precision by the surgeon.
In this case, the surgeon is removing a man's prostate gland. Robotic surgery is a growing trend in treating prostate cancer. The number of cases have increased sevenfold in the past four years, from 10,000 in 2004 to a projected 70,000 in 2008, according to Intuitive Surgical Inc., the creators of the robotic device. The advantages of robotics -- fewer side effects and quicker recovery times in many patients -- have led to increased use for other surgeries, including hysterectomy, kidney cancer and some heart procedures.
"At first, men think we hook up a robot and then go get some coffee, but the reality is the robot arms are a tool that I control, just like a scalpel, " said Shah, who has performed more than 600 robotic prostatectomies at St. Joseph Hospital in Atlanta, Georgia.
One benefit Shah describes is precision that far exceeds the human hand. The robot-controlled scalpel works delicately around the nerves and blood vessels in the pelvic area, vastly reducing the risk of damage that can lead to incontinence or impotence. "I'm able to spare all the things that help men have their dignity and at the same time take away the cancer," he said.
Studies have shown some benefits of robotically performed prostatectomy over a traditional open prostatectomy -- but the data aren't overwhelming. One clear advantage, Shah said, is the reduced blood loss. Also, robotic surgeries are considered minimally invasive. Instead of a 4˝-inch incision, robotics patients have six dime-sized incisions in the abdomen. Some patients experience only minimal pain and are in the hospital less than 24 hours.

Dr. Gupta reports more on robotic surgery »
But experts at the American Urological Association aren't yet describing the procedure as the new gold standard of care. "The outcomes of robotic operations have been excellent," said AUA spokesperson Dr. J. Brantley Thrasher, chairman of urology at University of Kansas Medical Center. "But to say we've seen a quantum leap in regards of one treatment being better than the other is premature."
Thrasher acknowledged that robotic prostate surgery is the fastest growing surgical procedure, a trend that will increase. "What's driving the increase is truly the consumer. Patients are requesting it like never before," he said. "The fact that less blood is lost and a short hospital stay is appealing for some patients."
Don't Miss
Tony Pouncey, 60, is one of those patients. His prostate cancer was diagnosed earlier this year. "I freaked out a bit, got on the Internet, and called around to find out what was out there for me," he said. For Pouncey, the size of the incision was the deciding factor. "I do a lot of exercise. I wanted to be back on my feet as quick as possible." He had a robotic prostatectomy last month and is now cancer free.
"I feel great," he said. "I was amazed at what little pain I had. I was at home and even walked my dog the very next day."
Shah said Pouncey's experience is more the norm than the exception, but points out not everyone qualifies for robotic surgery. Patients with excess abdominal fat and those with cancer that is not localized would not be ideal candidates. "It's important to talk to your doctor to figure out what is the best way to treat your individual case," Shah said.
The surgery can cost up to $15,000. It's also not always covered by insurance. Medicare leaves it up to regional offices to determine coverage case by case.
According to the American Cancer Society, one in six men will develop prostate cancer in their lifetime. "Most important thing is for men to get screened and know what treatment options are out there for them," Shah said.
Current recommendations say men should get annual prostate screenings starting at age 50. For African-Americans and other high-risk men -- for example, men with a first-generation family history of the disease -- testing can begin as early as age 40. Panel urges changes in prostate screenings
On Monday, the U.S. Preventive Services Task Force committee updated its screening guidelines and now recommends against routine prostate cancer screening for men over the age of 75. The committee believes if diagnosed after age 75, the cancer is unlikely to affect the men during their lifetime.
E-mail to a friend

All About Surgery • Prostate Cancer