By Judy Fortin
CNN Medical Correspondent
ATLANTA, Georgia (CNN) -- Lisle Nolan started noticing the symptoms four months ago: headaches, mood swings and a menstrual cycle that was out of whack.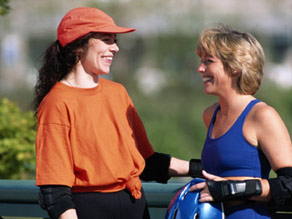 Regular exercise and stress reduction may help ease some of the symptoms of perimenopause, experts say.
"It's the exact same symptoms as my period, but I get them every two weeks," said Nolan, 46, a communications executive from Atlanta, Georgia.
Nolan went online to research what was going on, but it was her gynecologist who confirmed the diagnosis: perimenopause.
It's defined by experts as the time in which a woman's body begins to transition into menopause.
"This is actually a six- to 13-year process, not an event," said Dr. Christiane Northrup, author of "The Wisdom of Menopause."
She said it usually starts when a woman is in her 40s, but sometimes begins in the 30s.

Health Minute: What is perimenopause? »
As a woman ages, reproductive hormones begin to rise and fall unevenly. Menstrual cycles may become shorter or longer as the body moves closer to menopause.
Perimenopause ends 12 months after a woman has gone without having her period. At that point, typically in the early 50s, she's reached menopause.
Health Minute
Watch for Judy Fortin's Health Minute on Headline News
10 a.m. -6 p.m. ET weekdays
"For those women who are exercising, who are eating well, who are really happy in their work and relationships, they may go through perimenopause and never ever notice it," Northrup said.
But she added: "For the vast majority of women whose lives are overstressed, under-nutriented, under-exercised, it's a big wake-up call because your body is less forgiving than it was in the past."
Nolan's gynecologist, Dr. Nadine Becker, said the biggest complaint among her perimenopausal patients has to do with fluctuations in their menstrual cycles.
Irregular periods aren't the only problems. The Mayo Clinic reports that 75 to 85 percent of women experience hot flashes during perimenopause. Those episodes can involve night sweats, which often make sleeping patterns more erratic.
Other complaints may include mood changes, vaginal and bladder problems, changes in sexual function, bone loss and an increase in bad cholesterol.
Becker offers comfort and support to her patients by reassuring them that the symptoms are common among women going through perimenopause.
Don't Miss
"At the age of 46, I'm right there with them," she said. "I can relate to their frustration."
Becker didn't just offer Nolan comforting words. In order to be sure that nothing else was wrong, she ordered a few standard tests to rule out other medical concerns such as thyroid disease or cancer.
Though blood tests are available to confirm hormonal changes, Becker said she's reluctant to do so before menopause because the results aren't always reliable.
When it comes to treatment, Becker said, she may prescribe low-dose birth control pills to help regulate periods and even out other symptoms.
But Northrup is concerned that oral contraceptives are made from synthetic hormones. "This could be a bit of a problem with the liver if you're having trouble metabolizing other things and you don't have enough B vitamins."
Health Library
"For some women, the birth control pill will increase PMS-like symptoms," Northrup said.
She prefers a more natural approach and suggests that female patients take better care of their bodies.
Good nutrition, regular exercise and stress reduction may help ease some of the symptoms of perimenopause.
Nolan said she already leads a healthy lifestyle. She hopes her symptoms won't worsen.
In the meantime, she continues to come to grips with the fact that she's edging closer to menopause.
"I know I'm 46 and it's just a number, but this is a reality check that I don't want to have right now." She asked, "Can't I just wait until I'm 55?"
E-mail to a friend

All About Menopause