By David S. Martin
CNN





Editor's note: This story was originally published in March 2008.
YUMA, Arizona (CNN) -- At 13, Michelle Cedillo can't speak, wears a diaper and requires round-the-clock monitoring in case she has a seizure. While her peers go to school or the mall or spend time with friends, the Yuma, Arizona, teenager remains at home, where she entertains herself with picture books and "Sesame Street" and "Blue's Clues" DVDs.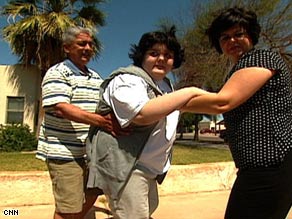 Mike and Theresa Cedillo believe vaccines played a role in the autism of their daughter, Michelle.
Michelle has no idea she is at the center of a court case pitting thousands of families of children with autism against the medical establishment. A number of prestigious medical institutions say there is no link between vaccines and autism. The families believe vaccines caused their children's autism, and they've taken their case to court.
"I think there is a link," says Theresa Cedillo, Michelle's mother.
Theresa and her husband, Mike, say their only child was a happy, engaged toddler who responded to her name, said "mommy" and "daddy" and was otherwise normal until she received a measles, mumps and rubella (MMR) vaccine at 15 months.
They believe the MMR vaccine, combined with a mercury-containing preservative found in that and other vaccines at the time, drastically altered the course of their daughter's development. Within days of receiving the injection as part of the normal course of vaccinations, Michelle suffered from a high fever, persistent vomiting and problems with her digestion. Worse still, her parents say, Michelle stopped speaking and no longer responded to her name.
Unraveling the mystery
CNN reports on the global impact and latest science concerning the developmental syndrome of autism in a global investigation.
All day today

"I thought it was because she was so sick. I thought certainly she'll start talking again," Theresa recalls. "You think you're dealing with something that's going to come and go, and you're going to get your child back, and you don't." Michelle has since been diagnosed with autism, inflammatory bowel disease, arthritis, osteoporosis and epilepsy.
Dr. Paul Offit, chief of infectious diseases at the Children's Hospital of Philadelphia, Pennsylvania, says the connection between vaccines and autism is nothing more than a sad coincidence.

Watch Dr. Sanjay Gupta's report on the Cedillos »
"About 20 percent of children with autism will regress between their first and second birthday," says Offit. "So statistically, it will have to happen where some children will get a vaccine. They will have been fine. They will get the vaccine, and they will not be fine anymore. And I think parents can reasonably ask the question, 'Is it the vaccine that did this?'"
The answer is no, according to the Centers for Disease Control and Prevention, the World Health Organization, and the Institute of Medicine.
In reaching its conclusion, the Institute of Medicine pointed to five large studies finding no link between autism and the preservative thimerosal, which contains mercury, and 14 large studies finding no link between the MMR vaccine and autism. Childhood vaccines no longer contain thimerosal, though it remains in some flu shots.
The studies compared autism rates among populations of children who did and did not receive the MMR vaccines, and among those who did and did not receive vaccines containing thimerosal.
"It's been asked and answered: Vaccines don't cause autism," Offit says.
Don't Miss
Michelle Cedillo's parents disagree. They've sued the government through the National Vaccine Injury Compensation Program, established in 1988 to pay damages to those who have suffered as a result of vaccines. Funded by a 75-cent tax added to the cost of each vaccine dose, the program's trust fund balance is more than $2.7 billion.
Michelle's autism claim is one of 4,900 in a single case before a special federal court, dubbed the "vaccine court," part of the U.S. Court of Federal Claims. The court picked Michelle's claim as the first of a total of nine test cases from the 4,900.
The court heard testimony in the Cedillo claim last June. Testimony in other test cases is scheduled for later this year.
Three special masters -- attorneys appointed by the court to make findings in this case -- are considering whether a combination of the MMR and the mercury-containing thimerosal preservative in vaccines could cause autism; whether MMR vaccines alone could cause autism; and whether thimerosal alone could cause autism. To prove their case, families need to show a plausible biological mechanism for vaccines to cause autism.

Interactive: Autism and vaccines »
While many studies have concluded that vaccines do not cause autism spectrum disorders, researchers are still looking for the causes. Some have found that a child born with certain genetic mutations is more likely to develop autism than one without the mutations.
At Michelle Cedillo's hearing last year, Dr. Marcel Kinsbourne, a pediatric neurologist who is a professor at The New School in New York, testified that he thought the measles vaccine was a "substantial factor" in causing the girl's autism. Traces of the measles virus were found in Michelle's gut, leading the Oxford University-trained doctor to conclude the girl's immune system had not rejected the virus. Kinsbourne told the court the measles virus invaded cells in Michelle's brain, resulting in her autism.
Already, families who believe vaccines can trigger autism are pointing to the case of 9-year-old Hannah Poling as a major victory.
In November, the government conceded that vaccines "significantly aggravated" the Georgia girl's underlying illness, predisposing her to symptoms of autism.
"Vaccines save lives," countered Dr. Julie Gerberding, director of the Centers for Disease Control and Prevention, after the Poling decision was announced in March. "The most reputable scientists around the world have looked at this situation over and over again, and they have stated that they cannot see an association between vaccines and autism."
No matter what the vaccine court decides, the debate will most likely not go away anytime soon, nor will the sometimes devastating symptoms of the children with autism.
At the Cedillos' modest home, Michelle receives nutrition through a feeding tube, cannot walk unassisted and uses hand motions and tapping to communicate with her mother, father, grandmother and grandfather, who are her constant companions and caregivers.

The Cedillos hope the vaccine court will award them enough money to ensure Michelle receives all the medical care she needs in the future.
"We all want our children back, and we can never have them back," Mike Cedillo says. "If me and Theresa aren't here anymore, and Michelle's well taken care of, that'll make me happy."
E-mail to a friend

David S. Martin is a senior producer with CNN Medical News.
All About Autism • Centers for Disease Control and Prevention