By Judy Fortin
CNN





ATLANTA, Georgia (CNN) -- Brian Connell felt the first pains of a heart attack while shoveling snow a year ago. But he was only 38, so he shrugged it off.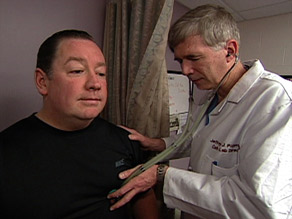 Brian Connell is one of "dozens" of heart attack patients under 40 that Dr. Jeffrey Popma sees each year.
"At 38, you're not 21 -- you're not bulletproof," Connell said. "But you certainly don't feel you are susceptible to a heart attack at that young age."
A few weeks later, his neck and shoulders started throbbing, and he felt a strange rawness in his throat. This time, he went straight to the emergency room of the nearest hospital. "I asked the doctor, 'Am I having a heart attack?' She said, 'Yes, you are.' "
Connell, a senior director for a high-tech company in Boston, Massachusetts, is among the nearly 1.2 million people who suffer a heart attack every year in the United States.
The most recent statistics from the American Heart Association reveal that 40,000 heart attack patients were between the ages of 35 and 44.
Connell's doctor, cardiologist Jeffrey Popma of Caritas Christi St. Elizabeth's Medical Center in Brighton, Massachusetts, sees the statistics firsthand: "We have dozens of patients in our system every year under 40 years old who have suffered a major heart attack."
Health Minute
Watch for Judy Fortin's Health Minute on Headline News
10 a.m. -6 p.m. ET weekdays.

Connell had many of the classic risk factors for heart disease. He is a former smoker and was about 50 pounds overweight. His blood pressure had skyrocketed. He also has a family history of heart disease. His grandfather suffered his first heart attack in his 40s and died of cardiac arrest at 60.
Nonetheless, Connell acknowledges that he was shocked when he was undergoing an angioplasty procedure within an hour of arriving in the emergency room.
"I'm lying there listening to 'Moondance' from Van Morrison because I'm awake during this whole thing," recalls Connell. "I'm wondering, 'What's going to happen? Is this the last song I'm going to hear?' "
Fortunately for Connell, the answer was no. Doctors implanted four stents to open a blocked right coronary artery. They also gave him a prescription for a new lease on life, starting with cardiac rehabilitation.

Watch more on Brian Connell's life after heart attack. »
Don't Miss
Popma says the program includes teaching patients how to lower cholesterol levels through a healthy diet, regular exercise and medications. Controlling blood pressure and stopping smoking are also an important part of cardiac rehab.
Popma says the goal in treating the youngest heart attack patients is teaching them to recognize the symptoms early and getting them to an ER quickly. "We can salvage the heart muscle for them, and they can go on to live long and healthy lives."
Connell calls himself the luckiest man alive, and looking back, he wishes he had done more to prevent the heart attack in the first place.
Health Library

These days, he follows his doctor's orders. Through exercise and diet he's lost that extra 50 pounds. He says he's doing everything he can to avoid a repeat trip to the ER: "When people ask, 'Was that your first heart attack?' I usually say that was my last heart attack. I certainly don't plan to make a regular event of this.
"All I have to do is put myself back in that cardiac intensive care unit, and that's a pretty good incentive to stay on this side of the dirt."
E-mail to a friend

Judy Fortin is a correspondent with CNN Medical News. Linda Ciampa of Accent Health contributed to this report.