By Elizabeth Landau
CNN





(CNN) -- David Laibson knows that when he procrastinates, mere deadlines are not always enough to get him going. So, when this Harvard economics professor collaborates on a major project, he'll sometimes promise to deliver a finished product by a certain date -- or else pay his co-authors $500.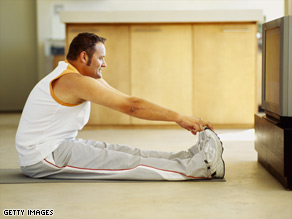 How much money would you be willing to forfeit if you didn't complete your New Year's resolution?
"There are a lot of behavioral economists who really do say that, and really do pay," says Laibson, who studies the psychological factors that play into economic decisions.
It's not just academics who set up monetary contracts to fight procrastination. StickK.com, founded by Yale University economics professor Dean Karlan and two colleagues, helps people fulfill their goals by allowing them to risk their own money -- if they don't complete their self-described objectives, they lose the money.
"It's a contract to make slothfulness more expensive," said Karlan, who has personally put up to $50,000 at stake to help himself lose or maintain his weight.

Watch CNN's Elizabeth Landau talk more about procrastination »
The site will soon have its first New Year's week, when people are making their resolutions for 2009. StickK.com, which launched at the end of January 2008, has about 30,000 registered users, Karlan said.
Goals on StickK.com range from the practical "stop biting nails" to the ambitious "successful startup" to the competitive "lose weight faster than Nate" to the creative "speaking more slowly to foreigners in NYC."
Why do we keep putting things off?
Economists say there is substantial evidence that humans naturally procrastinate because of inherent impulsiveness.
More specifically, says Laibson, people perceive rewards and costs as having only half the weight tomorrow that they have today. In other words, unpleasant chores feel only half as bad when we imagine doing them tomorrow, versus actually doing them today.
"Pushing costly, unpleasant tasks into the future is like a getting a 50 percent discount on them, psychologically," Laibson said. "When you actually arrive at that future date, you'll once again face the same problem."
How, then, can we fulfill our sometimes-unpleasant New Year's resolutions, such as losing weight or kicking a bad habit? The economists answer: Put a price on it.
StickK.com came about as a result of the theoretical work of Laibson and others on commitment contracts, Karlan said. The idea is that many people, such as Laibson with his $500 wager, will follow through with their goals if they are risking their own money. iReport.com: Tell us about your New Year's resolutions
StickK.com users set up whatever goals they like, and have the option of putting as much money as they want at stake. They can also designate a "referee" who receives e-mails when users report they've made progress. The second "k" in the name stands for "contract."
Forfeited money from unfulfilled promises goes to a charity or, depending on the user's preference, an "anti-charity" -- one the user doesn't support. For example, a person who feels strongly against abortion can designate the NARAL Pro-Choice America Foundation as the recipient of the money if he or she does not meet a personal goal.
About 85 to 90 percent of users fulfill their contracts, but Karlan cautions that each person's progress is self-reported. He also noted that some people may feel better about not making good on their promises if they opt to send their forfeited money to a good cause.
The company will soon be giving forfeited money to a nonprofit that works with families whose houses have been foreclosed, he said.
Why laziness means less money
Apart from these explicit contracts, research shows that people often lose money because of procrastination and self-control issues.
Delaying things such as opening a savings account or putting money into a 401(k) can have long-term consequences that could be avoided by acting earlier. A slew of economic literature suggests that small interventions -- such as having a portion of your paycheck automatically put in a retirement account -- can result in large long-term benefits. And you're more likely to have a retirement account in the first place if it's the default and you don't have to opt in.
Health Library
"It's clear that people delay choices that are beneficial to them ... if they're not the default," said Stefano DellaVigna, associate professor of economics at the University of California-Berkeley.
In a study on gym attendance, published in the American Economic Review in 2006, DellaVigna and colleagues looked at people who chose $80 monthly gym memberships over paying $10 a visit. These monthly members actually went to the gym only once a week, meaning they wasted $40 a month because of excessive optimism about how often they'd go.
Moreover, DellaVigna found a spike in gym enrollments around the start of the new year, but the dedication didn't last -- the new subscribers tended to go to the gym more than others for a month or two, and then their attendance dropped off to the lowest.
The bottom line is that people are overly optimistic, he said. If you're going to try to go to the gym more often, he recommends asking your gym of choice if it has the pay-per-visit option so you can monitor your own attendance before committing to the monthly contract.

Finally, you can override your short-term impulses by committing yourself to something a week ahead of time, said Laibson.
"Don't try to talk yourself into being a better person. Simply commit yourself in advance," he said.
E-mail to a friend

All About Psychology • Personal Finance