By Anne Harding
Many older adults in the United States are taking a confusing combination of medications, some prescribed by doctors and others picked up over-the-counter or in health food stores.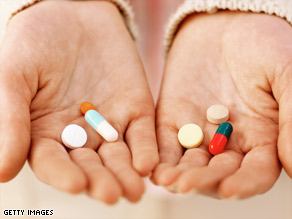 The study finds that one in 25 people take a risky combination of medications.
One in three adults age 57 to 85 is taking at least five prescription drugs, and half regularly use dietary supplements and over-the-counter drugs, according to a study in the Journal of the American Medical Association. While any single drug might help people live longer, healthier lives, experts worry that a combination of drugs, along with over-the-counter products and dietary supplements, could be a recipe for disaster in terms of drug interactions.
One in 25 people in the study, or about 2.2 million people, were taking a potentially risky combination of medications. That number jumped to one in 10 among men who were 75 to 85 years old.
For example, some people in the study were taking the blood thinner warfarin along with the cholesterol-lowering drug simvastatin, a combination that can increase the risk of bleeding. Others were taking warfarin and aspirin together, or ginkgo supplements with aspirin, which can also cause problems.
"Half of the interactions we saw increased the risk for bleeding, which could be fatal," said Dima M. Qato of the University of Chicago.
An estimated 175,000 adults 65 and older visit the emergency room every year for treatment of adverse drug events, and about a third of these cases involve commonly used medications.
Dr. Stacy Tessler Lindau of the University of Chicago, who led the research team, points out that the 3,005 study participants were on 15,000 different drugs and supplements in all. She says the percentage of people they identified as being at risk of harmful drug interactions is probably an underestimate given that the researchers only looked at the 20 most commonly used prescription drugs, the 20 most frequently used over-the-counter medications, and the 20 most popular dietary supplements. Health.com: Booze, drugs, and bipolar disorder
"I'm hoping that this study encourages patients and families to be proactive about the medications they're using in terms of getting information from their doctors, their nurses, their pharmacists," says Lindau.
Lindau and her team say that "polypharmacy," or the practice of putting people on multiple drugs, is on the rise. A 2002 study suggested that 23 percent of people 65 and older were on five or more prescription drugs at once, compared with 29 percent in the new study.
Lindau and her team interviewed a nationally representative sample of men and women who were 57 to 85 years old between June 2005 and March 2006. They visited participants in their homes and asked to see containers for every drug or supplement they took regularly.
"Literally folks went to their medicine cabinet or kitchen cabinet and brought all of the medications to the table," says Lindau.
Eighty-one percent of the study participants were taking at least one prescription drug, 42 percent were on at least one over-the-counter medication, and 49 percent were using one or more dietary supplement: 3 Signs you should stop, adjust, or switch antidepressants
The most commonly used prescription and over-the-counter drugs were for treating or preventing heart disease, such as cholesterol-lowering statins, blood-pressure-lowering drugs, and blood thinners like warfarin and aspirin. Health.com: Skipping doses can Be dangerous for heart patients
Polypharmacy was most common among the oldest patients, with 37 percent of men and 36 percent of women 75 to 85 years old taking five or more prescription drugs at once. Women were more likely than men to take prescription drugs and dietary supplements.
The number of prescription medications an older person takes is the strongest predictor of their risk for future drug-related problems, says Dr. Donna Fick, an associate professor of nursing and psychiatry at Pennsylvania State University in University Park.
"Because we know that the more medications you're on the more problems you have, I think we do have to think harder about how to balance medication use with non-pharmacological approaches," says Fick, a specialist in gerontological nursing.
Sedatives and hypnotics are among the riskiest drugs for older people, increasing the likelihood of falls and mental impairment, she pointed out. They are used to reduce agitation in older adults, but research has shown that offering people warm milk, herbal tea and a back-rub can reduce the use of these medications and the likelihood of drug-induced confusion. Health.com: Potential side effects of prescription sleep drugs
Such approaches are "different than this sort of 'fast food' approach to giving a medication, it takes more time and someone has to reimburse for that," Fick notes. "Right now they don't reimburse you to give back rubs and herbal tea, but they do reimburse you to give a medication, and it's faster."
Another problem, she adds, is that there's currently no way for doctors or pharmacists to know every drug, over-the-counter medication and supplement a patient is taking.
People should try to meet with the same doctor every three to six months to go over all the medications and supplements they are taking, Fick recommends. While it's never a good idea to stop taking a prescribed drug without consulting a doctor, she says, "It's reasonable to say "Do I need to stay on this?'" And it's also reasonable, she adds, to ask about alternatives to medication.
Lindau also suggests that people try to use the same pharmacy whenever possible, so that the pharmacist can catch potential drug interactions.
"That does help maintain the chain of communication," she says. And when buying an over-the-counter drug or supplement, even cold medicine or vitamins, Lindau recommends purchasing it at the pharmacy counter, which can help remind people to ask about safety.
She also suggests that people keep a list of all the drugs and supplements they're taking in their wallet, and make copies to keep by the telephone and to give to family members and friends who might be contacted in case of an emergency.
E-mail to a friend

Enter to win a monthly Room Makeover Giveaway from MyHomeIdeas.com
Copyright Health Magazine 2009
All About Prescription Drugs • Aging and the Elderly • American Medical Association