By Alina Cho and Melissa Morgenweck
For CNN's American Morning
(CNN) -- A treasure map to a baby?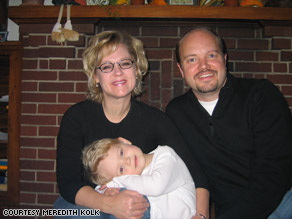 Meredith Kolk, shown with her husband and son, has tried alternative fertility methods.
That's just one of many things Meredith Kolk tried when she had problems getting pregnant.
At age 40, the mother of one longed for another child but knew the odds were against her. Kolk says a poster board with cutout images of happy babies kept her focused on her goal.
"Making this board helped me feel like I could have a vision to look at every morning and every night about what I wanted for my family. It helped keep me centered because the process is frustrating and it can be very nerve-wracking."
Kolk turned to in vitro fertilization and also used alternative approaches in hopes of increasing her chances of getting pregnant. She did 30 minutes of meditation each morning before going to work.
"I would visualize me pregnant with a healthy baby and a doctor saying 'yes, you're pregnant.' "

Watch for more on infertility among older women »
Kolk also received weekly acupuncture and made changes to her diet. She added wheat germ and nuts and swapped low-fat dairy foods with whole-milk foods.
CNN American Morning
Want to start a family? American Morning looks at cutting-edge fertility treatments, surrogacy and adoption this week.
6- 9 a.m.

Kolk says that doing these things helped her to stay calm.
Dr. Alice Domar, executive director of the Domar Center for Mind/Body Health in Waltham, Massachusetts, says her research shows a medical link between stress and infertility.
"The part of the brain that controls all aspects of reproduction is called the hypothalamus. It's also the part of the brain that controls how we respond to stress. And so it made sense to me intuitively that there could be a connection between stress and infertility," she said.
Domar specializes in women struggling with infertility. She says that if a woman can learn stress management through relaxation techniques, her chances of getting pregnant will double.
On the day we visited the center, 39-year-old Sarah Weatherhead underwent acupuncture. She's had in vitro fertilization three times without success and is waiting to hear if her fourth try has worked. She believes being more relaxed could help her chances of getting pregnant.
"I tend to be very positive about it, but it's difficult, especially when I've had so many failed cycles."
Don't Miss
Weatherhead is playing the ultimate game of beat the clock. In fact, one study shows that 33 percent of women are infertile by age 40. That number increases to 87 percent by age 45.
Doctors say the best hope for older women is donor eggs.
"A lot of women initially are very reluctant to go down the route of donor egg because they'll lose that genetic connection with the child," says Dr. Jane Ruman, an infertility specialist with Reproductive Medicine Associates of New York. "But the fastest way to get a child into your home is usually with a donor egg."
The technology is so successful that a 70-year-old woman in India gave birth to a baby girl in November. While no age limits are enforced in the United States, most fertility centers maintain a cutoff of between 50 and 55.
Health Library
Domar says her research shows that women over 40 make good mothers.
"They tend to be more comfortable with their role as parents. They can provide more financial opportunities. So from a psychological perspective, it's a good situation."
Weatherhead believes she has more to offer a child at her age.
"I think I'm smarter. I like myself better. I'm more accepting of myself," she said.
Weatherhead says that if in vitro fertilization doesn't work, she is open to adoption.
After three cycles of in vitro fertilization, Kolk did become pregnant and gave birth to twin girls, Calliope and Josephine, in October. She says she ended up with exactly what she had visualized with her treasure map: happy, healthy babies.
E-mail to a friend

All About Pregnancy and Childbirth