By Toby Muse
For CNN






CALI, Colombia (CNN) -- "You're going to speak with the miracle woman, right?" asks a neighbor as we search for her house, cameras in tow.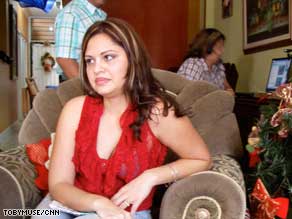 Claudia Castillo, 30, is getting back to normal life, six months after her landmark surgery.
Claudia Castillo needs no introduction in these parts. She is known simply as the 'wonder woman' in her modest neighborhood in the Colombian city of Cali.
Since Claudia, 30, received a new windpipe with tissue engineered from her own stem cells, she has become something of a local celebrity, as well as the subject of intense media interest from around the world.
Her operation, carried out in Spain in June this year, was one of the most exciting medical advances of 2008.
The breakthrough allowed Claudia to receive a new section of trachea -- an airway essential for breathing -- without the risk that her body would reject the transplant.
Scientists hope it could revolutionize transplants in the future.
After contracting tuberculosis in 2004, the mother-of-two was left with a damaged trachea, which led to severe breathing difficulties.
She suffered from agonizing bouts of coughing that sometimes left her feeling like she was suffocating.
"It was a constant cough and shortness of breath,'' Claudia, a dental assistant, tells CNN in an interview at her father's house in her native city of Cali, southwest Colombia.

See images of Claudia at home with her family »
"Working, going shopping, household chores, being with my small daughter, or climbing stairs, I couldn't do any of these things."
Vital Signs
Each month CNN's Dr. Sanjay Gupta brings viewers health stories from around the world.


As things grew progressively worse, earlier this year, Castillo was told by her doctors she had two options -- have her left lung removed or undergo a transplant -- that had only previously been carried out on pigs.
Doctors at the Hospital Clinic in Barcelona, Spain explained to Claudia that pigs are the closest to humans in terms of the lungs, heart and the bronchia.
"The doctor told me that they had operated on some pigs and wanted to know if I wanted to meet them. So, I met the pigs ... and they were fine," Claudia says.
"Dr Macchiarini told me that this was first time in the world that they would do this. There had been a lot of studies and the trachea was ready.
"As I had a lot of faith in the doctor for everything he did for me. It always turned out well, I decided I would go through with this."
"Obviously I was very scared," she says. "I thought that maybe the things wouldn't work out.
"But at the same time as my fear, I had confidence in God and in the doctor that everything would work out well."
Don't Miss
Three months before the transplant, stem cells were removed from Claudia's nose and hip in preparation for the six-hour operation that would change her life.
Now almost fully recovered, Claudia is trying to return to the active life she once led in Cali with her two children Johan, 15, and Isabella, four.
"Obviously, it's a lot better, I can breathe better. Now I don't feel like I'm suffocating. I'm trying to lead a normal life," she says. "I can climb stairs, climb up hills. I haven't been running yet, but I think I can."
She's also hoping to get back to swimming, a pastime she hasn't been able to enjoy for more than three years.
But on the day of our interview, nearly six months after the operation, Claudia was having a bad day. She was suffering from one of her periodic coughing fits, a series of convulsions that sounded so raw I winced.
As she talked there was a noticeable shortness of breath; after a long string of words, she would silently gasp and swallow some air.
She blamed the coughing fit on the change of climate from a Spanish winter to the tropical warmth of Colombia. And it was an uncomfortably hot day in Cali that day, even if we were surrounded by early Christmas decorations.
Listening to her story, Claudia seemed to represent so many of the Colombians I had met before in this troubled country. A hard worker, she wanted to make a better life for her family, so joined the millions of her countrymen who have moved to Spain.
Like so many people in Colombia, the country's rampant violence has scarred her family; a decade ago, her brother was killed in random violence.
As much as he wanted to be by her bedside during the operation, her father couldn't get a visa to travel to Spain in time, another problem for Colombians who are routinely eyed with suspicion by immigration officers across the world.
But now she's recognized on the street, with strangers thanking her for giving them hope.

"'They say hello miracle girl, the wonder woman" People hug me, some people cry," says Castillo.
"I feel good because it gives hope to sick people who haven't been given any hope.''
E-mail to a friend

All About Stem Cell Research • Tuberculosis