By Patrice Poltzer
For CNN






LONDON, England -- Many people think of tuberculosis as being a disease from the past. The truth is far from it: Tuberculosis is mutating into dangerous new strains for which there is no known cure.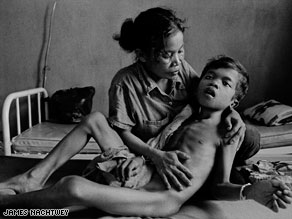 A mother comforts her young son who is suffering from TB meningitis.
One of the most frightening strains is XDR-TB, which stands for extensively drug-resistant TB.
Unlike less virulent strains, XDR-TB does not respond to the antibiotics that are usually used to treat TB. The disease is virtually incurable and threatens to become a pandemic.
About 40,000 new cases of XDR-TB emerge every year, the World Health Organization estimates.
Award-winning photojournalist James Nachtwey, who has chronicled the death and devastation the disease is bringing to many countries around the world, describes XDR-TB as "a merciless, man-eating predator lurking in the shadows."
He warns: "If it's not contained, the consequences could be dire."
Nachtwey, who has been covering humanitarian crises for more than 30 years, was awarded a TED prize in 2007 which gave him $100,000 and one wish to change the world.
Vital Signs
Each month CNN's Dr. Sanjay Gupta brings viewers health stories from around the world.


His wish centered on spreading awareness of this deadly form of TB and the images are borne out of Nachtwey's frustrations with the underreporting of what is potentially a global health crisis.
His photos tell the grim stories of impending death. In one, a man's suffering is so palpable that it is almost impossible to tear your eyes away from him.

See Nachtwey's arresting photos »
Another image shows a woman in a Thai hospital staring vacantly, as if resigned to the fact that death is soon approaching.
Yet another shows the look of helplessness on a mother's face faintly reflected in the terrified eyes of her ailing child. And so the images continue, revealing with each click of the mouse a photo that is more haunting than the last.
Nachtwey traveled to seven different countries, including Cambodia, South Africa, Swaziland and Siberia, and used his photography to tell the story of a disease that primarily afflicts developing nations, but has been found elsewhere worldwide.
His work is documented at XDR-TB.org, a Web site solely dedicated to telling the story of the disease through his powerful images.
Health experts say that the tragic thing about XDR-TB is that it should not exist. TB in itself is curable. But if anti-TB drugs are not properly administered or used, the disease can mutate into deadlier strands such as XDR.
And the life-saving drugs used to treat regular TB only cost $20 per patient in the developing world, according to the WHO.
But there haven't been enough funds raised to combat the disease, which is strongly linked to poverty.
Furthermore, according to Louise Holly from Action, a group aimed at controlling the spread of TB, no new scientific developments to combat TB have been made in more than 40 years.
Holly told CNN that people have many misconceptions about TB.
"The drug resistant strand is a highly contagious airborne disease. With increased travel and globalization, it is possible for anyone to pick up the disease, even in developed countries like the U.S. and UK," she said.
Holly said that TB can be transmitted in overly populated areas, which include poor villages and prisons, but also in cosmopolitan places, such as London or New York, where people work closely together and ride crowded public transportation.

Currently, treatment options for XDR are virtually non-existent. Those most susceptible to it are people with weakened immune systems, such as those with HIV.
Holly told CNN that as serious as the XDR strand is, it could serve as a wake-up call to the public that the disease still exists and that people should view tuberculosis as a modern-day ailment.
E-mail to a friend