By Madison Park
CNN
(CNN) -- In an election where accusations and acrimony were flung back and forth for months, a wave of calm and civility washed over millions of Americans who lined up to vote Tuesday.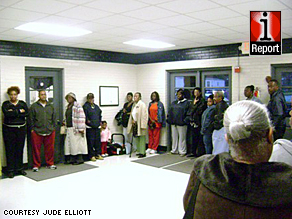 Jude Elliott called waiting Tuesday in Orangeburg, South Carolina, the "best hour and a half of my life!"
"People were really overwhelmed in an amazed sort of way," said Justin Sheets, a CNN iReport contributor who arrived at 5:45 a.m. to find 200 people in line at his polling station in Richmond, Virginia.
"There was a light-hearted crowd despite weather conditions, and no one was complaining. Everyone was excited to see the turnout. There's a lot of collective energy that goes on."
In a culture that emphasizes "me," voting creates the sense of "we," said Robert Cialdini, a psychology professor at Arizona State University who studies group behavior.
A long line to vote creates the sense that everyone is "all one here, united under the common identity. I think it created the sense of 'we,' not 'me,' " Cialdini said. "Inside the boundaries of 'we,' people treat each other well."
Usually when people are waiting at the checkout stand or in traffic even for a few minutes, tempers can flare or tense words and gestures can be exchanged. But while waiting in queues that extended several blocks in New York or wrapped around buildings in other cities, there was not much grumbling or complaining, according to other iReporters. iReport.com: Share your voting experience
That's due to a sense of specific purpose, said one expert.
"Voting is an expression to self," said Kevin Lanning, psychology professor at Wilkes Honors College of Florida Atlantic University. "We're Americans. We take pride in that. This is how we manifest our Americaness. This is an action in which people take pride. That pride and being crabby aren't really compatible with each other."
During Election Day, the short fuse is supplanted by congeniality.
"Voting is a realization of their social position of a citizen, as a person in a larger community," said Shawn Rosenberg, a professor of psychology at the University of California, Irvine. "They're performing a citizen role and a line isn't an obstruction. It symbolizes their commitment to a larger role. It orients people in another way. They're less selfish about it, and they're taking more pleasure in being part of a larger group."
And maybe that's why people are engaging in random acts of kindness on Election Day, psychologists said.
People trolling for parking spaces at Atlanta, Georgia, polling stations were directed by other voters to available spots. At Sheets' polling place in Richmond, morning voters waited in the rain, sharing umbrellas with strangers.
Before Election Day, the wait time for early voting was as long as eight hours in some areas. In North Carolina, strangers standing next to each other played games to pass the time, quizzing each other on their knowledge of the amendments to the U.S. Constitution.
"Everyone knew the Second Amendment, said Daniel Staten, a 20-year-old iReporter from North Carolina who voted early after a five-hour wait on Saturday. "It was kind of funny."
Staten recalled that one woman got food orders and went to a nearby takeout restaurant to bring back food and soft drinks for those standing in line.
A long wait isn't necessarily a deterrent, said Cialdini, who also wrote the book "Influence." The longer the line, the more it validates people's decision to vote.
Health Library
"They indeed see a four- to five-hour wait; it's validating of their intent to vote to recognize that so many people are willing to wait that long," he said. "It gives them evidence that it's the right thing to do. ...The size of the wait may increase the willingness of people to stay on."
The conversations and the camaraderie while waiting in line transcend partisanship, experts say.
"This whole concern about the divide, the red or blue, left or right, it is a real problem, but it's not a necessary one," Rosenberg said. "People operate under mutual respect and realize we're all in the same boat."
E-mail to a friend

All About Elections and Voting • Psychology