By Linda Saether
CNN
ATLANTA, Georgia (CNN) -- When I first heard about digital mammograms, my first thought was, "This could be good."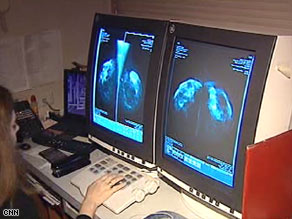 Digital mammograms, which are computer files, can be magnified and brightened.
I thought of my daughter's new digital camera and all the really cool things it could do -- it takes great, easy snapshots, crops those images, colors them, even makes them look like an Andy Warhol print. It produced perfect pictures pain free. Pain free is the key phrase here.
Could this new technology keep a gal from feeling exactly like pizza going from the ball stage to crust -- flattened?
Alas, probably not.
"So far we have not been able to obviate the need for compression," said Dr. Carl D'Orsi, director of breast imaging at the Emory Winship Cancer Institute in Atlanta.
Loosely translated that means the "smoosh" factor lives on.
But there are some pluses with digital mammography.
First, the dose of radiation exposure is lower than with traditional analog mammography. And we all know that is a number we want to keep as low as possible.
Also digital mammograms, which are computer files, can be stored better and shared more easily.

Health for Her: More on digital vs. film mammograms »
Not so for the older versions. Think of the difference between e-mail and snail mail.
And finally the digital image allows for a good bit of picture enhancement.
"We can change the brightness," D'Orsi said. "We can change the contrast, we can invert the contrast, we can magnify it, we can demagnify it. So there's a lot you can do now. "
But what digital can't do now is detect cancer a whole lot better than the analog type could, in most cases.
However there are some exceptions, according to D'Orsi, who has been doing this for 30 years.
Health Library
"It's better than film in really one particular area, and that's the woman with dense breasts," he said. "By dense breasts, we mean a woman who has a fair amount of glandular tissue, breast tissue, related to the fatty tissue that's always present in the breast.
"Studies have shown that it [digital mammography] does detect the findings better in that scenario."
If you wondering how to know whether your breasts are dense, the best thing to do is ask your doctor.
But whatever the technology available, the most important advice you will get from doctors and mammographers is: Just do it.
Pam Keel, an eight-year veteran mammographer, said the screening "shouldn't be painful, but they are also not a walk in the park."
She said there are a few things women can do to make this picture-taking session more productive. First, she said, "Lay off the caffeine for a week prior to getting your mammogram." In fact, caffeine can wreak havoc on breasts -- dense or not.
Keel advises women who are particularly pain sensitive to take something such as an over-the-counter pain reliever.
But mainly Keel said women need to see this screening as a lifetime commitment to caring and maintaining their body and its health.
It might not be comfortable, but it is important.
E-mail to a friend

All About Breast Cancer