WASHINGTON (CNN) -- The federal government has expanded its investigation into an outbreak of salmonella illness to include items commonly eaten with tomatoes, health officials said Tuesday.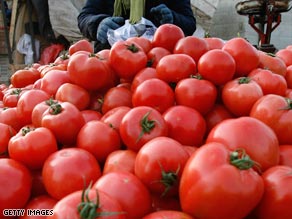 Since April, more than 800 people have contracted the same strain of salmonella, but its source is unclear.
"Tomatoes are not off the hook," said Dr. David Acheson, associate commissioner for foods at the Food and Drug Administration. "It's just that there's clearly a need to think beyond tomatoes."
The outbreak of illness linked to Salmonella Saintpaul, a rare form of the bacteria, has sickened 869 people, 107 of whom have been hospitalized, said Dr. Robert Tauxe, deputy director of the Division of Foodborne, Bacterial and Mycotic Diseases at the Centers for Disease Control and Prevention.
The outbreak began in mid-April, and the most recent case was reported June 20, implying that the outbreak is ongoing, Tauxe said.
More than half the illnesses have been diagnosed in Texas, New Mexico and Arizona, Tauxe said.
"It's like a detective trying to solve a case. We often have to rely on people's memories about things that are not very memorable: what they ate last week or the week before," Tauxe said.
He said the original tomato warning was issued after interviews with different people revealed a "strong association" with the consumption of raw tomatoes: More than 80 percent of the cases in the initial case-control study had eaten fresh tomatoes.
Still, many people interviewed may not have realized that the things they ate had different ingredients, Tauxe said.
Acheson said that 10 of approximately 100 laboratories that are part of the country's Food Emergency Response Network have volunteered to expand their testing to the wider array of foods that the agency is focusing on.
Acheson would not divulge what those other foods are.

Watch a report on the latest information on the salmonella outbreak »
"At this stage of the investigation, it would be irresponsible for us to say." he said.
Despite the expansion of the investigation, the public health message to consumers remains the same, he said. Grape, cherry and on-the-vine tomatoes have not been associated with the outbreak, and raw tomatoes from a number of states and countries posted on the FDA's Web site have not been associated with the outbreak.

Read tips on food safety »
Earlier Tuesday, Health and Human Services Secretary Michael Leavitt acknowledged some frustration with the pace of progress.
"Nothing happens fast enough when you have a problem like this," he said. "The level of collaboration has been good, but it does involve many states, many countries or multiple countries and multiple agencies."
In an unusual move for a trade group, the United Fresh Produce Association is asking for federal safety regulations to allay consumers' fears.
"United Fresh believes that for maximum consumer confidence we need mandatory federal standards for fresh produce," said David Gombas, senior vice president for food safety and technology of the group, which represents fruit and vegetable growers nationally.
"Those standards need to be commodity-specific, because one size does not fit all. They should be risk-based, and they should be flexible enough to change as science catches up," he said.
A national survey by the Harvard School of Public Health Project on the Public and Biological Security found that 58 percent of Americans deem food produced in the United States "somewhat safe," and 37 percent considered food "very safe."
Acheson said food in the United States is "incredibly safe." Still, he is looking for more legislative authority from Congress to deal with food safety, including federal requirements for growers. There are none now.
Acheson said FDA officials have also begun exploring the possibility of creating an interagency task force to ensure that the nation's food-protection efforts are coordinated at local, state and federal levels.
He noted that the agency asked Congress in November to give it the authority to require preventive controls and improve the ability to trace back tomatoes to where they were grown.
The FDA is also hoping to expand inspections oversees in places such as China and India, he said. Fewer than 1 percent of imports are now inspected.
But the ultimate responsibility for ensuring that the nation's food supply is safe rests with industry, he said.
"This is not a quick overnight fix," Acheson said. "It's going to be a slow, incremental fix over a number of years."
E-mail to a friend

All About Centers for Disease Control and Prevention • Food and Drug Administration