By Elizabeth Cohen
CNN






Empowered Patient, a regular feature from CNN Medical News correspondent Elizabeth Cohen, helps put you in the driver's seat when it comes to health care.
ATLANTA, Georgia (CNN) -- The video is deeply disturbing.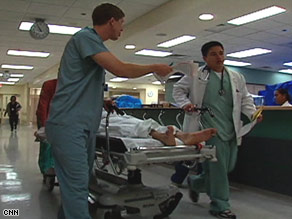 Experts attribute long emergency rorom waits mostly to situations no one can control.
In it, former CNN Headline News anchor Glenn Beck describes going to the emergency room in intense pain -- so overwhelming, he wept.
He says that for two hours, no one gave him pain medication. In fact, he says, no one lifted a finger to help him at all for 40 minutes.
Beck says his wife literally held him up in the emergency room, while nurses looked on and chatted about their holidays. He does not identify the hospital.
"I'm in massive, massive pain," Beck writes on his Web site. "This guy, this triage nurse, is 250, 300 pounds, big guy. Not only does he not go to help my wife help me up, he actually had the audacity to stand there and drum his fingers against the door and look at us like, come on, come on, come on."

Watch the video of Glenn Beck on his sickbed »
The video, which has had more than 800,000 hits on YouTube, brings to mind the case of Edith Rodriguez. Last year, she was on the floor of a Los Angeles hospital emergency room vomiting blood, and witnesses say no one did anything to help her. Her boyfriend actually called 911, which refused to help since she was already in a hospital. Rodriguez died in the emergency room.
These cases, while unusual, certainly happen, say emergency room doctors.
"There are truly situations where it's so busy there are sick patients who are waiting. I will admit that," says Dr. Assaad Sayah, who runs three emergency rooms for Cambridge Health Alliance in the Boston, Massachusetts, area.
"Ridiculously long wait times are a huge issue," says Dr. David Beiser, an emergency medicine physician at the University of Chicago Medical Center. "Recently we've had over 40 patients in our waiting room. When I was in training [five years ago], it was rare to see more than 20 patients in our waiting room."
Donna Mason, an emergency room nurse for 33 years, says sometimes, she'd have 75 patients waiting for 54 beds -- and she knew very sick patients were in the waiting room needing care.
"The greatest fear of every doctor or nurse is that [a situation like Beck's] is going to happen in our emergency department," says Mason, the immediate past president of the Emergency Nurses Association.
Released this week, a Harvard University analysis of more than 90,000 U.S. emergency room visits found that one in four heart-attack patients waited 50 minutes or more to be seen by a physician in an emergency room.
These experts attributed long waits mostly to situations no one could control -- too many patients and too few beds. But they also acknowledged that ERs could be better organized.
Sayah said reorganizing his ERs has led to dramatic decreases in waiting time.
"Beck would've been in a bed in less than two minutes in my hospitals," he says. Waiting times are longer for patients who aren't very sick, but even for them, it's better than it used to be. "The average time from door to physician used to be about an hour. Now it's 21 minutes," Sayah said.
His staff -- especially those who greet patients -- receive customer service training. "It's just like the training they give in restaurants or entertainment places -- it's how to be pleasant to people," he says.
But what if you find yourself in an emergency room that has long waits and nasty employees? Mason and the emergency room doctors have this advice about what not to do while navigating the ER:
1. Don't forget to call your doctor on the way to the ER
When ER doctors hear from a fellow physician, they listen, says Beiser at the University of Chicago. "They'll talk to me professionally and put a bug in my ear," he says. "This guy will now be on my radar screen."
2. Don't use an ambulance unless you really need it
"There's a myth out there that if you arrive in an ambulance, you'll go straight back to the doctor," Mason says. "But it's not true. If we can see that you can walk, you may get asked to get off that gurney and go to the waiting room."
3. Don't be quiet
If the triage nurse -- that's who makes the decisions about who needs care first -- isn't helping you, don't stop there, says Sayah. "Speak up. Say, 'I need to see the person in charge,'" he says.
4. Don't get angry, and don't lie
While it's important to make yourself heard, it's also important to use basic etiquette.
"We're all human, and usually when people are nice to us, we're nicer back to them," Sayah says.
Lying about your symptoms -- making them seem worse than they really are in hopes of getting attention faster -- can backfire, says Dr. William Bozeman, an emergency room doctor at Wake Forest University Baptist Medical Center in Winston-Salem, North Carolina.
"We have people saying they have crushing sub-sternal chest pain, that they're having a heart attack, when in reality they're trying to get Vicodin for chronic back pain," he says. When the staff figures it out, "They may not be very pleased at all and may not treat you nicely."

5. Don't forget the phone
If things get really bad, and no one is helping you, look for a house phone, dial zero, and ask for the hospital administrator on call, Sayah says. "Even the smallest hospitals have a hospital administrator or a patient advocate on call 24/7," he says. "Hospital administrators don't want to hear patients are unhappy. Their job is to break the hurdles and move forward."
E-mail to a friend

Elizabeth Cohen is a correspondent for CNN Medical News. Senior producer Jennifer Pifer contributed to this report.