(CNN) -- Police say a sizable statue worth more than $10,000 was stolen this month from the posh Florida estate of Bernard Madoff, the Wall Street investment adviser accused of operating a $50 billion Ponzi scheme.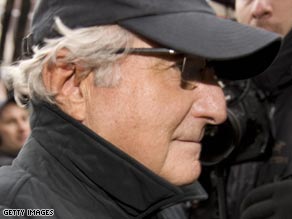 Bernard Madoff strolls down New York's Lexington Avenue after news of the fraud allegations breaks.
The 4-foot-high statue, which portrays two lifeguards sitting on a bench, was stolen December 19 from Madoff's estate in Palm Beach, police said.
The theft happened eight days after Madoff was arrested in New York in connection with the investment fraud allegations.
"The property manager left the residence one afternoon, and when she returned, she noticed a statue that was normally kept by the pool was missing," Palm Beach police Sgt. Richard Sorge said.
Sorge said investigators have "no leads, not a single clue" in the investigation of the heist.
Madoff, a former Nasdaq chairman, was arrested December 11 and charged with securities fraud. He is accused of operating a multibillion-dollar Ponzi scheme from his investment advisory business, federal authorities said.
The 70-year-old is under 24-hour house arrest at his Manhattan apartment while awaiting court proceedings. His $10 million bail was secured by properties owned by Madoff and his wife, including the Manhattan apartment and the Palm Beach estate.

E-mail to a friend

CNN's Laurie Segall contributed to this report.
All About Bernard Madoff