NEW YORK (CNN) -- A 9 mm handgun, a rifle, ammunition and clothing were confiscated during a search of the home of New York Giants wide receiver Plaxico Burress, police said Wednesday.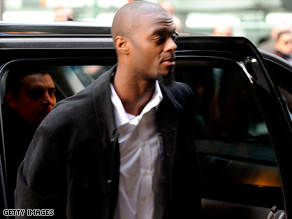 New York Giants receiver Plaxico Burress surrenders at the 17th police precinct in Manhattan.
The confiscated clothing included the sneakers and blood-stained jeans worn by Burress on November 28, when he accidentally shot himself in the leg at a Manhattan night club, said Dennis Blakely, a police detective in Totowa, New Jersey, where Burress lives.
Burress has been charged with two counts of second-degree criminal possession of the gun with which he shot himself.
Blakely said it is unclear whether Burress has permits for the weapons found in his home Tuesday. If not, additional charges would be likely.
"He's not around, we don't have any paperwork for the weapons, so we'll have to find out," Blakely said.
Burress' wife and an associate from the office of his attorney, Benjamin Brafman, were present during the Tuesday night search, as were New York Police Department officers and investigators from the Manhattan district attorney's office, in addition to Totowa police.
Brafman would not comment on the case to CNN, while the district attorney's office said it "can neither confirm nor deny" information about the search.
Officials would not comment on additional published reports that a case full of money was found at Burress' house.
Burress could face up to 15 years in prison if convicted on the two counts he currently faces, the Manhattan district attorney's office has said.
After the shooting, the Giants suspended Burress for the regular season's four remaining games and placed him on the reserve/nonfootball injury list, effectively ending his season.
New York Presbyterian Hospital suspended a worker in early December for failing to notify police of Burress' gunshot wound, as is required by law.
The shooting was the latest bump in a rocky season for Burress, who became a hero of last season's Super Bowl when he caught the game-winning touchdown pass from quarterback Eli Manning with 35 seconds remaining.
He was fined and suspended from the team's October 5 game for reportedly missing a practice without notifying the team. Later, he was fined $45,000 by the NFL after an October 19 game during which he argued with a referee and threw a football into the stands.
E-mail to a friend

All About New York Giants • Plaxico Burress