ORLANDO, Florida (CNN) -- The grandparents of slain toddler Caylee Anthony said Tuesday they will hold private and public memorials and asked people not to donate any money toward funeral expenses.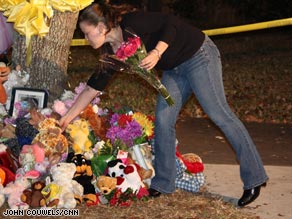 Flowers are placed at a makeshift memorial in the wooded area where Caylee's body was found.
The announcement came on the day that a judge in Orlando granted an attorney for Caylee's mother, who is accused of murder, the right to inspect autopsy photos, X-rays and other relevant material.
Attorney Jose Baez said the defense wants to conduct a second autopsy and needs the material beforehand.
Assistant State Attorney Jeffrey Ashton had told Baez in an e-mail Monday that the material would be provided "in due course."
Circuit Judge Stan Strickland ordered prosecutors Tuesday to provide the material within 14 days.
Caylee was 2 when she vanished last summer. Her mother, Casey Anthony, was arrested October 14 and charged with murder even though her daughter's remains had not yet been found.

Watch Casey's ex-fiance say she loved Caylee »
Skeletal remains were discovered earlier this month in woods about a half-mile from her grandparents' house, where Caylee and her mother had been living.
DNA testing indicated the remains were Caylee's.
Don't Miss
The Anthonys' family lawyer said Tuesday that reports that they were seeking donations for Caylee's funeral are incorrect.
"It is important that people's kind donations of hard-earned money during difficult times go toward their intended wishes," said attorney Brad Conway. "All money currently held in any account dedicated to finding Caylee will be given to an as-yet-undetermined nonprofit organization devoted to finding missing children."

Watch a child that resembles Caylee visit makeshift memorial »
Conway also announced the family's plans for a public memorial service.
"The Anthonys appreciate and respect the public show of love and affection for little Caylee, their only granddaughter," Conway said. "It is their intention to have both a private ceremony as well as a public ceremony. The Anthonys want to begin the process of healing not only for themselves, but for our entire community."
No date or location was announced.
"The public memorial will have to be located at a large venue so that everyone who wants to pay their last respects to this beautiful child may do so," Conway said.
E-mail to a friend

CNN's John Couwels contributed to this story.
All About Caylee Anthony • Casey Anthony • Orlando (Florida)