ORLANDO, Florida (CNN) -- Investigators carried away several bags and boxes of potential evidence from the home of Caylee Anthony's grandparents on Saturday, shortly after they finished searching woods nearby where the toddler's body was found.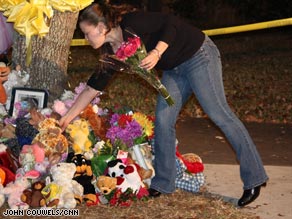 Flowers are placed Friday at a makeshift memorial in the wooded area where Caylee's body was found.
George and Cindy Anthony were home when the search warrant was served at 3 p.m., a spokesman for the Orange County, Florida, sheriff's office said. Their daughter, Casey, who was the child's mother, is being held at the Orange County jail, charged with her daughter's murder.
It was the third such search of the Anthony home in the 10 days since the child's remains were found. The spokesman, Angelo Nieves, would not describe the items taken other than to say they were "of evidentiary value."
Just minutes before the search of the Anthony home began, investigators concluded their painstaking search of the scene where a county meter reader found a plastic bag containing the skull of a small child on December 11.
Other skeletal remains, including bone fragments as small as a pea, were uncovered after investigators marked off grids and sifted through the underbrush, leaves and dirt.
The remains were identified as Caylee's on Friday through DNA, and her death was ruled a homicide.
A large crowd of onlookers gathered as authorities left the search area on Saturday, CNN affiliates reported. The area was marked with "No Trespassing" signs, and a surveillance camera was installed, affiliate WFTV reported. The investigation has now shifted from a missing-persons search to a homicide prosecution.
Casey Anthony, 22, faces charges including first-degree murder in the disappearance and death of Caylee, who was 2 when she vanished last summer.
The mother's defense team had claimed since her October indictment that the child might still be alive, even claiming witnesses had spotted Caylee since her disappearance.
The defense team has fought unsuccessfully in court for access to the autopsy, the forensic evidence and to the scene where the remains were found.
Don't Miss
Nieves, the sheriff's spokesman, said the defense was notified at 11:30 a.m. that the scene would be released. But, Nieves said, attorney Jose Baez told him the defense would not be responding to the scene.
The formal identification of the remains "has really cut the legs out of the defense," Stacey Honowitz, an assistant Florida state's attorney, said Friday night on CNN's "Larry King Live."
But the lack of a cause of death and the absence of any soft tissue on the toddler's skeletal remains poses a challenge for prosecutors, forensic expert Lawrence Kobilinsky -- a consultant for Casey Anthony's defense -- told King.
"If you don't have a cause of death, isn't it possible that it might have been an accident?" Kobilinsky said.
A murder conviction would require proof the victim was killed intentionally. Legal experts say duct tape reportedly found on the body could convince a judge or jury that Caylee's death was not an accident.
Perhaps of greater significance, though, is Casey Anthony's behavior since -- and even before -- her child went missing. According to earlier reports, Caylee was the result of an unintended pregnancy, and Anthony made an attempt to give her up after birth. She referred to Caylee as "the little snot head" and continued to maintain an active social life.
Anthony did not tell her family for a month that Caylee had vanished. It was the child's grandmother who called police. Casey Anthony told conflicting stories at the beginning of the investigation, including a tale that Caylee was with a nanny. The name and address turned out to be bogus.
Casey Anthony's social life continued as police searched for Caylee -- including one memorable night of dancing at an Orlando bar that was hosting a "Hot Body Contest."
Investigators said they found the scent of decomposing flesh and a trace of chloroform, a powerful knockout agent, in the trunk of a car Anthony drove at the time. Anthony's family offered various explanations, including a rotting pizza and a dead squirrel.
On the Anthonys' home computer, police found there had been searches for chloroform, missing children and "neck-breaking," although Garavaglia said Friday that she did not find evidence of trauma to the bones.
"The prosecution is going to have a great deal of circumstantial evidence, and this is a physical evidence case," Kobilinsky said. "This is not a question about credibility, although obviously a jury looks at credibility and contradictions, but the physical evidence will either include her or exclude Casey. It's an uphill battle for the defense."
Nevertheless, forensic expert Kathy Reichs, who also is working with Anthony's defense team, sees an opening.
"Given that there's no evidence as to the cause of death ... you could have an accidental death and a mother that panics," she told King. "There are alternative explanations."
Perhaps not enough to save Casey Anthony, said famed defense attorney Mark Geragos, who is not associated with the case.
"The defense will try to focus, I'm sure, on all of the forensic evidence and whatever else they can do," he told King. "But they're always going to be up against it with the 'She didn't act right' evidence, and that's the hardest thing to combat in this case."
Prosecutors don't need to show what killed Caylee, Geragos said. The defense needs to overcome Casey Anthony's statements and behavior.
"Somebody is going to have to give an explanation at some point as to when she last saw the child, who she gave the child to," he said. "And until that is done, I don't care what they put together, it's not going to carry any weight."
E-mail to a friend

CNN's John Couwels contributed to this story.
All About Caylee Anthony • Casey Anthony • Orlando (Florida)