By Paul Vercammen
CNN Senior Producer

SANTA MONICA, California (CNN) -- Most of the sports memorabilia seized by authorities in the O.J. Simpson armed robbery case in Las Vegas is headed to California and, eventually, to Fred Goldman.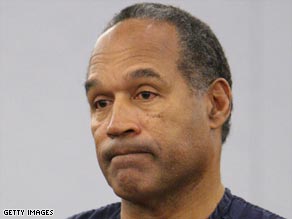 O.J. Simpson, convicted of armed robbery, is awaiting permanent assignment to a Nevada prison.
On Friday, Judge Jackie Glass, who presided over Simpson's armed robbery trial, ordered footballs, pictures and other memorabilia in evidence shipped to the Los Angeles County sheriff.
The shipment satisfies a turnover order signed by a California judge.
Goldman lawyer David Cook says he and his client are thinking about selling the memorabilia online to help pay the $33.5 million judgment against Simpson for the wrongful death of Ronald Goldman.
"Sheriff's sales are traditionally distress sales, to be very polite," Cook explained. "We are going to try to obtain an order from the court to authorize this stuff with evidence stickers attached (to be sold) on eBay, America's yard sale," he added.
"Hopefully, somebody will be enthralled enough to try to buy the football that put O.J. behind bars."
Glass, who sentenced Simpson to nine to 33 years in prison, also ordered all co-defendants to pay $3,650 in restitution to one of the victims, memorabilia dealer Bruce Fromong.
Don't Miss
Fromong sought more than $100,000 for property loss and medical bills resulting from the September 2007 armed robbery at the Palace Station Casino Hotel in Las Vegas, Nevada.
Earlier Friday, a judge in Santa Monica, California, ordered another of the victims, memorabilia dealer, Alfred Beardsley, to turn over Simpson's Hall of Fame ring.
Beardsley said he didn't have it.
Beardsley denied allegations that Simpson had given him the ring in exchange for favorable testimony at the Las Vegas trial. He said Simpson told him he lost the ring on a golf course 12 years ago.
Bill Falkner, an investigator from Las Vegas, made up a story about Simpson giving him the ring, Beardsley said.
"We don't like each other," Beardsley explained as he left the courthouse. "He tried to intimidate me, and he tried to get me to testify to things that didn't occur."
Falkner had testified at a previous hearing that Beardsley told him about the ring.
"He told me that the only thing he received for his trouble in this case was O.J. Simpson's Hall of Fame ring," Falkner testified.
The exchange is raising issues over whether Simpson tried to pay off prosecution witness Beardsley, whose scattered, pro-Simpson testimony was a source of frustration for prosecutors.
Beardsley doesn't have fans with Simpson's defense team either.
"It's crazy how much credibility is being given to this total nutcase," Simpson lawyer Gabe Grasso told CNN. "In my entire representation of O.J. since September 2007, the topic of a ring never came up, or selling any ring, or doing anything with any ring."
At the previous hearing, Beardsley invoked his Fifth Amendment right against self-incrimination, refusing to say anything in court about the ring.
Superior Court Judge Gerald Rosenberg issued an "evergreen" order Friday for Beardsley to surrender the ring if it ever turns up in his possession.
The case was heard in Santa Monica because that court is home to all matters involving Fred Goldman and his quest to satisfy a $33.5 million wrongful death judgment against Simpson in the death of his son Ron Goldman.
"I call it 'Lord of the Rings' in an orange jumpsuit," cracked David Cook, the Goldman lawyer who relentlessly hounds Simpson for property he thinks should go to the Goldmans.
Cook subpoenaed investigator Falkner when he caught wind of the ring story.
After the hearing, he said he still believes Falkner's story, that Beardsley said Simpson gave him the Hall of Fame ring as a reward for his loyalty.
"Mr. Cook is a very bizarre individual," Beardsley responded outside the courtroom. "I am going to be filing a civil clam against his client [Fred Goldman] next week for reimbursement for several thousand dollars of attorneys fees."
Beardsley's attorney, Jack Swickard, says he knows nothing about suing Goldman.
As for the drama's central player: Simpson sits in a 6-by-9-foot cell at High Desert Prison, waiting to find out which Nevada facility will house him for the rest of his sentence.
"In about a week, they will make a final decision on whether to keep him there or send him somewhere else," explained Suzanne Pardee of the Nevada State Department of Corrections.
Inmates at the High Desert intake facility are on a very structured schedule, which includes hot meals at breakfast and dinner and a sack lunch.
"There are classes and assessment in the morning and the afternoon. Inmates at the intake facility don't have normal access to the yard, law library and commissary. They don't have all that access in the three-week intake period that a normal inmate would have."
Pardee says there are seven prisons where Simpson could serve the rest of his sentence, including the possibility of him staying at High Desert, 45 minutes north of Las Vegas.
E-mail to a friend

All About O.J. Simpson • Alfred Beardsley • Fred Goldman