ORLANDO, Florida (CNN) -- Attorneys for the mother accused of killing Caylee Anthony will not have access to a site where investigators believe they have found the missing toddler's remains, a judge ruled Tuesday.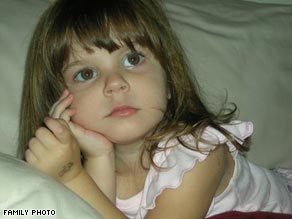 Caylee Anthony, 2, has been missing since June in a case that has received national attention.
The judge called the latest defense motions -- which asked for a second autopsy and access to crime scene photos, video and sketches from the site -- "pure folly."
"I can't assist you in interfering with a murder investigation," 9th Circuit Judge Stan Strickland told defense attorneys for Casey Anthony.
Anthony, 22, faces charges including first-degree murder in the June disappearance of her daughter Caylee, who was 2 at the time. Remains described as being those of a small child were found last week a half-mile from Casey Anthony's parents' home.
Some of the remains have been sent to the FBI lab in Quantico, Virginia, in an effort to identify them. Authorities have said the remains are believed to be Caylee's, but a positive identification is pending.
This week's motions came after Anthony's attorneys were denied their request last week to observe the autopsy on the remains and conduct their own forensic tests. A judge said the motion was premature because the body had not yet been identified.
Because the judge wouldn't allow the defense team to get their own hands on evidence dug up from the site, lawyers asked this week if they could appoint someone else to oversee the examination of the remains.
Strickland shot down the request, saying Anthony's defense team had no right to interfere with an ongoing investigation.
Don't Miss
"There's no time clock on an investigation, and if law enforcement doesn't do an exhaustive job, defense will argue it was shoddy and inadequate," Strickland said, in explaining why he rejected the motion.
"Law enforcement has the obligation to get out there and do whatever they need to do, disrupt whatever they need to disrupt," the judge said. "... I can't stand in their way."
Defense attorneys have asked to be allowed to examine the remains after they are identified and autopsied. Strickland has reserved a ruling on that request until an identification is made.
In one of this week's motions, Anthony's defense attorneys expressed concern that testing of the remains would involve "maceration," or the removal of tissue from bones, meaning they would be denied access to the same evidence as the prosecution. They asked that Strickland order the Orange County, Florida, medical examiner to direct the FBI not to macerate the remains, and also that they be advised of the "protocols, policies and procedures" in use by the FBI.
Officials have pledged, however, not to harm any of the remains, except for a 3-inch section of bone that probably will be macerated and destroyed during testing, prosecutor Robert Guthrie told Strickland. Except for that, "If it's there now, it will be there," Guthrie said.
Strickland told defense attorneys that he cannot tell the medical examiner to tell the FBI what to do.
The other motion involves the site where the remains were found. Defense attorneys were asking that Strickland order police to turn over photographs, schematic drawings and video from the site.
Authorities initially told the defense their experts would be allowed to examine the scene after they finished processing it. However, work at the site continued Tuesday after what Orange County sheriff's Capt. Angelo Nieves called "significant finds." A source said Monday that additional bones were found at the site.
Defense attorneys told Strickland they had flown in a host of experts last week, but have had to allow them to return home without a chance to examine the crime scene.
"It is imperative to the defense to have its own experts process the crime scene in as close to its original condition as possible," the motion said. "Due to the large amount of time and anticipated destruction of the crime scene (the defense has witnessed video of law enforcement sifting through numerous buckets of dirt) it may be impossible for the defense to have an accurate representation of what the crime scene looked like when the remains were found, much less the location.
"Photographs, video and schematic drawings are required, so that the defense will at the bare minimum have an idea of what the crime scene might have looked like before it was processed and possibly contaminated."
Ann Marie Delahunty, attorney for the Sheriff's Department, told Strickland, "It's not an excavation site, it's an active crime scene. We are preserving what needs to be preserved. We are doing the job we're supposed to do."
She noted that the remains have yet to be identified as those of Caylee, and said authorities are unwilling to release photos of the skull of "this little girl ... to be broadcast all over the news."
Authorities can release selected photographs to defense attorneys, much like they would in a public records request, she said. But "we are not in a position to release every photograph that's been taken out there," Delahunty said. "That would be completely inappropriate at this time."
The parties agreed on that, although defense attorney Jose Baez said he wanted a timeline on when the photos would be available and pledged not to distribute them to any third party.
Delahunty noted that those taking the photographs "are on their hands and knees sifting through dirt right now," but agreed to turn them over as soon as possible.
Thursday, after remains were discovered at the site, authorities searched the home of Caylee's grandparents. An attorney for the grandparents, George and Cindy Anthony, said Monday that "a number of items" were seized.
Sheriff's spokesman Carlos Padilla said last week that authorities believe the remains are Caylee's for three reasons: No other children have been reported missing in the area; the remains are consistent with those of a child of Caylee's age; and the remains were found near the home of the grandparents, where the 2-year-old and her mother were living just before Caylee disappeared.
Casey Anthony could face a sentence of up to life in prison if convicted. Prosecutors said this month they would not seek the death penalty.
E-mail to a friend

All About Caylee Anthony • Casey Anthony • Orlando (Florida)