ORLANDO, Florida (CNN) -- Authorities cordoned off the home of missing toddler Caylee Anthony's grandparents on Thursday, hours after the remains of a small child were found nearby.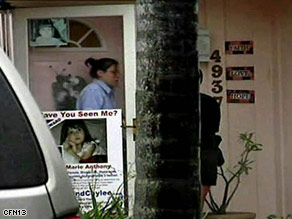 Investigators have sealed off the Anthony home, which shows a large Caylee poster.
The sheriff's office in Orange County, Florida, said it is seeking a warrant to search the home of George and Cindy Anthony.
Sheriff Kevin Beary said the home has been secured "pending more investigation." The house has the "possibility of being more of a crime scene later," he added.
A child's skull was found at about 9:30 a.m. by a utility meter reader who alerted authorities, sheriff's spokesman Jim Solomons said. Investigators, including those from the Anthony case, rushed to the scene, he added.

Watch investigators swarm the scene »
CNN affiliate WFTV reported that the meter reader picked up a plastic bag at the site and a skull fell out. The remains have been removed by the medical examiner and will be sent to the FBI lab at Quantico, Virginia, Sheriff Beary said.
The agency has told its lab analysts that the case is top priority, Beary added. "If they have to work through the weekend, they'll work through the weekend."
"Bottom line, it's real simple, folks," Beary said. "We've recovered this human skull, it appears to be that of a small child, and now the investigation continues. We've got a lot of lab work to do, a lot of DNA work to do, a lot of crime scene work to do. We could be here all night."

Watch the sheriff talk about what needs to be done »
Prosecutors have asked police not to disclose many details surrounding the discovery, Beary said.
Caylee Anthony, 3, has been missing since June in a case that has received national attention. Casey Anthony, the child's 22-year-old mother, was charged last month with murder and other offenses. She is being held at the Orange County Jail.
The area where the remains were found had been searched as part of the investigation into Caylee's disappearance, he said. But the precise spot where a county meter reader found them -- "45, 50, 60 feet back" from the street -- was flooded at the time of the search.
No clothes were found with the remains, Beary said.
Asked whether the remains could belong to another child, Beary said, "Not that we know of, but that's always a possibility, and that's why we've got a lot of work to do on this case still."
Earlier, authorities said the Anthony family had been notified of the discovery. The remains were found "in very close proximity" to the Anthony home, Solomons said.

View a map of where the remains were found »
An attorney for Casey Anthony filed legal papers Thursday afternoon seeking a court order to preserve all evidence collected, and to permit the defense to conduct its own forensic testing. A hearing has been scheduled for Friday morning.
In a court hearing earlier Thursday, 9th Circuit Judge Stan Strickland postponed Casey Anthony's trial at the request of defense attorney Jose Baez. The attorney said he had not received all the evidence due him from prosecutors and was not ready to proceed with the January 5 trial.
Baez asked Strickland whether the trial could be delayed until March. The judge scheduled a hearing January 15 to consider a new trial date as well as a possible change of venue.
Casey Anthony remains in protective custody and has no contact with other inmates, corrections officials said.
"She has been seen by a Corrections Health Services psychologist and her status was reviewed," officials said in a statement, adding Anthony was under psychological observation -- which is not the same as suicide watch.
Baez arrived at the jail just before noon Thursday and stayed about an hour and a half, officials said.
Prosecutors said this month that they would not seek the death penalty against Casey Anthony. If convicted of murder, she could be sentenced to life in prison.
Authorities have said Casey Anthony waited about a month before telling her family that Caylee was gone. Cindy Anthony -- Caylee's grandmother and Casey Anthony's mother -- called the Orange County sheriff's office July 15, saying her daughter would not tell her where Caylee was.
When questioned, Casey Anthony gave conflicting statements to police, including some that were later disproved, according to hundreds of documents and investigative reports released in the case.
She claimed that she dropped Caylee off with a baby-sitter, but when police checked out her story, they learned that the address Casey Anthony supplied belonged to an apartment that had been vacant for weeks. The woman Casey Anthony named as her baby-sitter told police she did not know her.
Investigators have said that cadaver dogs picked up the scent of death in Anthony's car, as well as in her parents' backyard. They also said air quality tests conducted by the FBI found evidence consistent with human decomposition and chloroform in the car's trunk. A neighbor told police Anthony had asked to borrow a shovel.
Also, an analysis of Anthony's computer found that she had visited Web sites discussing chloroform and had done Internet searches on missing children, according to information released in the case.
"There isn't a motive, and they haven't found a motive," Cindy Anthony said Wednesday night on CNN's "Larry King Live."

Watch Cindy Anthony insist her daughter is innocent »
She added, "They told us they thought it was an accident, and she's scared and tried to cover it up. They don't feel there's a motive."
Cindy Anthony stressed that five searches for the girl's body have "come up with nothing. There's nothing that they have found that, you know, has given them any evidence that Caylee is no longer with us."
The Anthonys said they believe that the girl is still alive and that someone has her, noting several reports of sightings.
Last month, Strickland denied prosecutors' request to impose a gag order in Anthony's case, saying he could not state that continued publicity would pose a threat to her trial or even that a gag order would stem the flood of media attention.
E-mail to a friend

CNN's John Couwels and "Nancy Grace" producer Natisha Lance contributed to this story.
All About Caylee Anthony • Casey Anthony • Orlando (Florida)