WASHINGTON (CNN) -- Five detainees at Guantanamo Bay, Cuba, say they want to confess to conspiracy charges for planning the September 11, 2001, attacks, a Pentagon spokeswoman said Monday.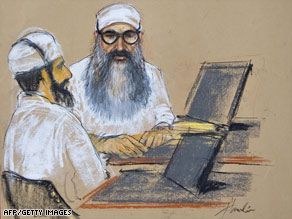 A sketch shows Walid bin Attash, left, and Khalid Sheikh Mohammed in court at Guantanamo Bay in June.
Khalid Sheikh Mohammed -- the confessed architect of the attacks, who was captured two years later in Pakistan -- and four other alleged co-conspirators asked a military judge if they could withdraw all pending motions and plead guilty, Maj. Gail Crawford said in an e-mail.
The defendants announced their decision in front of relatives of victims in the al Qaeda-orchestrated attacks, said Jennifer Daskal, senior counterterrorism counsel for Human Rights Watch. She attended Monday's hearing.
The military judge accepted the requests from Mohammed, Ali Abdul Azziz Ali and Walid bin Attash, but ruled that competency hearings are first needed for Mustafa al Hawsawi and Ramzi bin al Shibh, because "questions exist as to their competency to stand trial," Crawford said.

Watch more on the hearing »
It has not been determined whether the defendants, formally charged in June, will face a potential death sentence.
The commissions to try foreign terrorists have been delayed for years by legal challenges. In 2006, the U.S. Supreme Court ruled an earlier version of the commissions was unconstitutional, forcing the Bush administration and Congress to revise guidelines for the military tribunals at Guantanamo.
"What should have been a major victory in holding the 9/11 defendants accountable for terrible crimes has been tainted by torture and an unfair military commissions process," Daskal said.
Don't Miss
"This is the government's last hurrah," she added, referring to the final weeks of the Bush administration's second term, which ends January 20.
Denis McDonough, a senior adviser to President-elect Barack Obama, said no decisions have been made about what to do with the 255 inmates at the U.S. detention facility in Guantanamo Bay, "and there is no process in place to make that decision until [Obama's] national security and legal teams are assembled."
Officials close to the Obama team said the incoming administration is considering putting some of the inmates on trial in existing federal courts, setting up a special national security court to deal with cases involving sensitive intelligence, and releasing other inmates.
Some conservatives, however, don't like the idea of bringing suspected terrorists to the U.S. mainland.
"There's really no place in the United States that can replicate the sort of operational security features that Guantanamo has," said David Rivkin, a former Justice Department official.
In 2006, President Bush said he would like to close the prison but announced it needed to remain open to house what he called "cold-blooded killers."
The Pentagon's chief prosecutor resigned in protest in 2007 after declaring the military commissions had become "deeply politicized."
Critics say the camp has damaged the reputation of the United States overseas, with a U.N. report declaring that interrogation techniques used on prisoners "amounted to torture."
The White House has consistently denied that the United States practices torture, but CIA officials have admitted to using "waterboarding." The technique, which is said to simulate drowning, has been considered a war crime in the past.
Several detainees, including Mohammed, were moved to Guantanamo Bay in September 2006 after being held in secret CIA prisons around the world.
The detention facility, which was intended to house foreign fighters captured on the battlefield, was created on the grounds of the naval base after the September 11, 2001, attacks that killed almost 3,000 people in New York, Washington and Pennsylvania.
E-mail to a friend

CNN's Jamie McIntyre contributed to this report.
All About Guantanamo Bay • September 11 Attacks