From Kevin Bohn
CNN
WASHINGTON (CNN) -- The Justice Department on Monday plans to unveil charges against five former Blackwater Worldwide security guards stemming from a 2007 shooting that killed 17 Iraqis in Baghdad, according to several sources with knowledge of the investigation.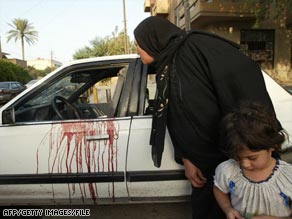 An Iraqi woman looks at a blood-stained car of two women killed in the 2007 Nisoor Square shooting.
The five former guards will turn themselves in to FBI authorities in Utah on Monday, according to two other sources close to the case.
One of the guards is from Utah. One of the sources said defense attorneys decided to have all of them surrender in one location rather than in their various home states, or in Washington, where the federal grand jury handed up the charges last week.
Both sources said the guards' surrender in Utah is a matter of convenience, and is likely to be followed by an aggressive legal defense. One of the sources said defense attorneys plan to fight "over venue first," then argue that U.S. law does not pertain to the actions of these guards.
"Why in the world would the government manufacture a venue in Washington, D.C., when they know none of the men had been there or lived there?" the source told CNN.
The Justice Department refused comment on the case because the charges are under seal. The Justice Department was considering manslaughter, assault and weapons charges, sources with knowledge of the case previously told CNN.
The State Department, which employed Blackwater to protect U.S. diplomats and other employees, also had no comment. Blackwater declined comment until an official announcement is made.
The men were identified as Donald Ball, 26, of West Valley City, Utah; Dustin Heard, 27, of Knoxville, Tennessee; Evan Liberty, 26, of Rochester, New Hampshire; Nick Slatten, 25, of Sparta, Tennessee; and Paul Slough, 29, of Keller, Texas.
Two people with knowledge of the case said Friday that a sixth security guard is in plea negotiations.
Blackwater has been told by the government the company will not face charges, according to several sources with knowledge of the case.
Iraqi authorities accused Blackwater guards of killing 17 civilians and wounding nearly 30 in the September 2007 shootings in Nisoor Square in western Baghdad.
Blackwater said its guards were protecting a U.S. diplomatic convoy when they came under attack from armed insurgents. The guards returned fire, Blackwater said.
But an Iraqi investigation called the killings "premeditated murder" and accused the guards of firing on civilians indiscriminately. The first U.S. soldiers to arrive on the scene told military investigators they found no evidence the contractors were fired upon, a source familiar with a preliminary U.S. military report told CNN.
The FBI also investigated the incident and determined the shootings were unprovoked and Blackwater personnel used excessive force, according to a senior Justice Department source speaking on background because the case remains sealed until Monday.
None of the guards has worked for Blackwater since 2007, said company spokeswoman Anne Tyrrell.
An attorney for Ball said Sunday his client "committed no crime" but would turn himself in Monday.
"We are confident that any jury will see this for what it is -- a politically motivated prosecution to appease the Iraqi government," attorney Steve McCool said. "It has been reported that Mr. Ball will be charged with firearms offenses that carry mandatory penalties of up to life imprisonment. It would be outrageous to charge my client with offenses relating to guns issued by the State Department."
In a statement, attorney David Schertler said: "We strongly disagree with the Department of Justice's decision to bring charges against Dustin Heard. Any charges brought against Mr. Heard are wrong and unjust."
Slough's attorney, Mark Hulkower, said he is "an honorable young man who served this country with distinction for many years."
Hulkower said Slough "should not face criminal charges for defending himself and others from insurgents in Iraq, and we are disappointed that federal prosecutors have taken it on themselves to second-guess how these brave young men fought for their lives.
"We are confident Mr. Slough will be exonerated," Hulkower said.
The complex legal case has been dogged by difficulties and may present a major challenge to federal prosecutors.
Among the potential problems is that the law under which the charges are expected to be brought covers contractors working for the U.S. military, but the Blackwater guards were contracted by the State Department. Some independent legal experts question whether U.S. courts have jurisdiction in this case.
Also muddying the waters are alleged assurances of immunity given to the guards by State Department Diplomatic Security Agents investigating the incident before the FBI got involved.
The State Department says its agents did not offer blanket immunity from criminal prosecution but only promised statements the guards made on the scene could not be used against them in any prosecution.
But when the investigation was turned over to the Justice Department to examine possible criminal activity, FBI agents discovered some guards believed they were immune from prosecution and therefore refused to be interviewed again, complicating the FBI investigation.
The incident heightened tensions between U.S. and Iraqi government officials and contributed to a protracted debate over the extent of immunity that U.S. military personnel and civilian contractors have from Iraqi laws.
Security contractors had immunity from Iraqi law under a provision put in place in the early days of the U.S.-led occupation of Iraq. But starting next year, under a U.S.-Iraq security agreement that Iraq approved Thursday, Iraq will have the "primary right to exercise jurisdiction" over U.S. contractors and their employees.
The State Department, which employed Blackwater to protect U.S. diplomats and other employees, renewed Blackwater's contract this year over strong objections from the Iraqi government.
E-mail to a friend

CNN's Terry Frieden, Elise Labott and Justine Redman contributed to this report.
All About Iraq • Blackwater Worldwide