(CNN) -- A call to the Secret Witness tip line helped police break CNN's first featured cold case: the slaying of college student Brianna Denison, investigators say.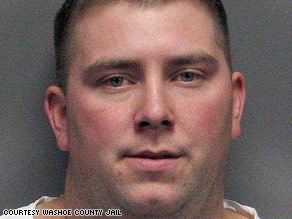 James Michael Biela, 27, is accused of killing 19-year-old Brianna Denison.
A construction worker was charged with Denison's murder last week, nearly 10 months after the 19-year-old California college student was found strangled and sexually assaulted in Reno, Nevada.
At a news conference Wednesday, relief was visible on the faces of the cops who worked the case and came, as one said, to view Denison as "everyone's daughter." For her family, the relief competed with tears.
The arrest of James Michael Biela, 27, closes one chapter and opens another as the case moves from the investigative phase and into the courts.

Watch what led to the arrest »
For Nancy Grace's Cold Case team, the arrest also marks a milestone. Brianna Denison's was the first cold case we featured. Her story appeared on CNN.com, and a segment aired on "Nancy Grace" on September 15. And now, it is also our first cracked cold case.
Denison, who attended Santa Barbara Community College, vanished January 20 while visiting friends at the University of Nevada's Reno campus. Her body was found several days later, partially covered with snow in a desolate field outside of town.
Cold Case Arrest
Cold Cases: Nancy looks at Brianna Denison's slaying
8 & 10 p.m. ET

Biela, a former Marine, is charged with murdering Denison by strangulation. Prosecutors say they may file more charges as the case makes its way through the courts.
Biela also was charged with first-degree kidnapping and sexual assault of a second young woman, a student at the University of Nevada, Reno.
And, police say, Biela is a suspect in the November 2007 parking lot assault of another UNR student. In that case, the alleged victim washed off evidence of the crime and delayed reporting the attack, police said at the news conference.
DNA is the crucial link in the two cases that led to criminal charges. Police say they were able to connect Biela's DNA with a sample left on panties found near Denison's body. Police said at the news conference that they found DNA matching Biela's on the rear door of the off-campus house where Denison was staying with friends.

Watch how the investigation unfolded »
It also matched DNA found at the scene of a December 16 sexual assault, police maintain. The victim, a UNR student, was able to escape her attacker and describe him in detail, police say.
Both crimes bear a striking resemblance to several other sexual assaults in the area, leading police to believe that Biela is a serial rapist. They are asking other possible victims to come forward.
One of the previous victims was able to describe Biela's pickup, another key link in the evidentiary chain, according to investigators.
Don't Miss
Police say Biela's associates told them he left Reno in a hurry in March, shortly after Denison's body was found. He also sold the pickup that matched the witness' description.
The investigation has now turned up gray fibers on one victim's clothing, said Detective Adam Wygnanski of the Reno Police Department. They appear to match fibers from the gray velour interior the pickup Biela sold, he added.
Biela returned to Reno in September. It was an anonymous tip from a friend of his former girlfriend November 1 that broke this cold case wide open, police say.
Investigators had established that the killer was from the Reno area and had an unusual fetish of collecting one victim's underwear and leaving it as a "calling card" at the next victim's crime scene.
The tipster caught investigators' attention, telling the Secret Witness tip line about Biela's pickup and suspicious ex-girlfriend. The tipster then told police that the former girlfriend had found two pairs of thong panties in Biela's new truck.
Detectives immediately followed up on the tip and, with permission from the former girlfriend, took DNA samples from Biela's 4-year-old son.
Lab tests showed that the boy's father -- Biela -- was almost certainly a match for the DNA found on the doorknob and at the crime scene, police said.
The finding was confirmed when Biela was arrested and ordered to submit DNA samples. An overnight session at the crime lab confirmed the match, and charges were filed, police said.
Investigators say they since have learned that Biela was familiar with the grounds of the university, having worked there on a construction job last year. Police say his work on campus put him in a position to easily target women.
When first questioned about the Denison case in early November, Biela refused to submit DNA samples and provided an alibi to police, claiming that he'd been with his girlfriend. The girlfriend denies that he was with her the night Denison disappeared, investigators say.
Police spokesman Lt. Robert McDonald said investigators have no doubt that Biela is responsible for Denison's death.
"We knew the profile we were looking for: someone unobtrusive, who stalked his victims quietly but escalated his violence with each new attack," he said.
Now, it's up to the courts to decide.
Meanwhile, investigators are certain there are other victims who just haven't come forward. Police are urging anyone with more information to call the Reno Police Hot Line at 775-745-3521.
E-mail to a friend

All About Criminal Investigations • Nancy Grace • Murder and Homicide • Brianna Denison