NEW YORK (CNN) -- New York Giants star receiver Plaxico Burress was charged Monday with criminal possession of the weapon he shot himself in the leg with last week.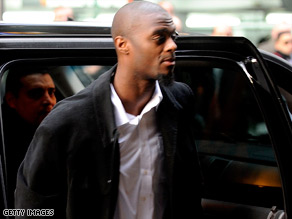 New York Giants receiver Plaxico Burress arrives at the 17th police precinct in Manhattan on Monday.
His attorney, Benjamin Brafman, said Burress, 31, plans to plead not guilty during an appearance in court Monday.
Burress turned himself in at the 17th police precinct in Manhattan about 8 a.m. Monday.
A detective later said Burress had been charged with criminal possession of a weapon in the second degree. If convicted of such a charge, Burress could face up to 15 years in prison, according to New York state law.
Even without a conviction, the NFL could discipline Burress under its personal conduct policy. Commissioner Roger Goodell would have the final word on any league disciplinary action.
"He's physically OK and mentally OK," Brafman said. "He understands the seriousness of the situation, and he's addressing it in a responsible fashion."
The attorney added he does not know when Burress may be back on the field.
The Giants have issued a statement saying they were "in contact with Plaxico since shortly after the incident," and their primary concern was for his health and well-being.
The team said Burress suffered a wound to his right thigh, and was treated and released from a hospital.
Sports Illustrated reported that Burress had accidentally shot himself while at Latin Quarter, a sprawling nightclub in Manhattan.
A law enforcement official told The New York Times that the gun was a Glock semiautomatic pistol and that it had been recovered from the football star's New Jersey home.
The shooting was the latest bump in a rocky season for Burress, who became a hero of last season's Super Bowl when he caught the game-winning touchdown pass from quarterback Eli Manning with 35 seconds remaining.
He was fined and suspended from the team's October 5 game for reportedly missing a practice without notifying the team. Later, he was fined $45,000 by the NFL after an October 19 game during which he argued with a referee and threw a football into the stands.
He injured a hamstring in a game two weeks ago and was not scheduled to play in the Giants' game Sunday.
E-mail to a friend

All About New York Giants • Plaxico Burress