From John Couwels
CNN

ORLANDO, Florida (CNN) -- A judge denied prosecutors' request for a gag order in the case of Casey Anthony, the Florida woman charged with killing her missing 3-year-old daughter, Caylee.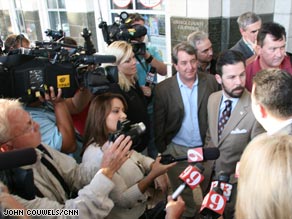 Casey Anthony's defense team is mobbed by the media after a hearing on the gag order request.
Florida 9th Circuit Judge Stan Strickland said he did not think a gag order would stop the media whirlwind surrounding the case and he could not find the publicity would hurt Anthony's right to a fair trial.
Prosecutors had asked for the gag order to silence Casey Anthony's defense attorneys from talking to reporters, saying their statements could influence prospective jurors in the case. Anthony is charged with killing Caylee in a case that has become a nightly staple on cable news shows.
"While the court shares the state attorney's concerns about the amount and nature of the publicity, the legal standard has not been met," Strickland wrote in his ruling.
"The state attorney's office argued that the defense team, as well as the Anthony family's lust for the 'limelight,' may well sabotage the potential jury pool when this case is ultimately tried," the judge continued.
"While this argument has some appeal, it does not rise to the level of being a serious and imminent threat to the administration of justice. Further, this court is confident that even with a 'gag order' the publicity and media attention would continue unabated."
At a hearing Tuesday, prosecutor Jeff Ashton told Strickland that Anthony's defense attorneys have revealed privileged attorney-client information on national television, as defense attorney Jose Baez accused prosecutors of leaking evidence to the media.
"I expect the two of you to be civil to one another," Strickland told the lawyers as their arguments grew heated. "There's a little girl missing."
In his order, however, Strickland reminded the attorneys that Florida bar rules prohibit "extra-judicial comments" that are likely to prejudice the trial. He stressed that "patently false statements" made with the intent to pollute the jury pool will be referred to the Florida bar for disciplinary action.
Anthony, 22, was arrested earlier this month and faces charges including capital murder in the disappearance of Caylee, who has been missing since June. If convicted, she could face the death penalty or life in prison.
Anthony waited about a month before telling her family that Caylee was gone. Cindy Anthony -- Caylee's grandmother and Casey Anthony's mother -- called the Orange County, Florida, sheriff on July 15, saying her daughter would not tell her where Caylee was.
When questioned, Anthony gave conflicting statements to police, including some that were later disproved, according to hundreds of documents and investigative reports released in the case.
She claimed, for example, that she dropped Caylee off with a baby sitter, but when police checked out her story, they learned that the address Anthony supplied belonged to an apartment that had been vacant for weeks. The woman Anthony named as her baby sitter told police she did not know her.
Investigators previously have said cadaver dogs picked up the scent of death in Anthony's car, as well as in her parents' backyard. They also said air quality tests conducted by the FBI found evidence consistent with human decomposition and chloroform in the trunk of Anthony's car.
A neighbor told police Anthony had asked to borrow a shovel. Also, analysis of Anthony's computer found she had visited Web sites discussing chloroform, as well as Internet searches of missing children, according to information released in the case.
Further hearings are scheduled next month.
E-mail to a friend

All About Caylee Anthony • Casey Anthony • Missing Children