By Mallory Simon
CNN
(CNN) -- Police in Reno, Nevada, say they have solved one of their most haunting cold cases, arresting a construction worker in the slaying of 19-year-old college student Brianna Denison.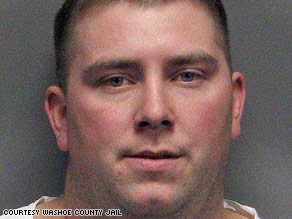 James Michael Biela, 27, is accused of killing 19-year-old Brianna Denison.
A secret witness tip and DNA samples taken first from the suspect's son and finally from the man himself cracked the case, authorities said Wednesday.
James Michael Biela, 27, was arrested Tuesday night and booked on suspicion of kidnapping, murder and sexual assault in connection with Denison's slaying and an attack of another woman the previous month.
The arrest marked a major milestone in a 10-month-long manhunt for Denison's killer. Police said they received 2,278 tips.
The tip that cracked the case came November 1 through the Secret Witness hot line, police said.

Watch how police cracked this cold case »
Denison, 19, was attending college in Santa Barbara, California, and was visiting friends at the University of Nevada, Reno. She was reported missing after she slept on a friend's couch off campus.
Denison's friends woke early January 20 and couldn't find her. A small blood stain was on her pillow, and her shoes, purse and cell phone were left behind.
Three weeks later, her body was found partially covered in snow in a nearby field. She'd been sexually assaulted and strangled.
Don't Miss
During the investigation, police focused on the killer's unusual "calling card." Authorities said the suspect had a fetish for women's lingerie and took his victims' panties, leaving a previous victim's panties at the scene. They asked for help from anyone who knew about a women's black thong, size small, that was found near Denison's body.
Denison's slaying attracted nationwide attention and gripped the Reno community during the early months of 2008. State and federal law enforcement agencies worked side by side to run down each of the 2,278 tips.
"No one should have to suffer as Brianna Denison did," Washoe County Sheriff Mike Haley said, standing beside a large photo of Denison. "Brianna became everyone's daughter."
Lauren Denison, the victim's aunt, spoke with tears in her eyes, thanking law enforcement and the media for working together so they "could get this guy." Wearing a large button memorializing her niece, she added, "We are pleased that this person is off the street and he cannot hurt anyone else."
Reno Police Chief Michael Poehlman said a friend of Biela's girlfriend called the tip line, suggesting him as a suspect. According to the tipster, the girlfriend told her that she had found women's underwear in Biela's car and confronted him about it.
The information "indicated that Biela's activities and behavior made him a likely suspect," police said, without providing further details.
After identifying him as a potential suspect, police conducted surveillance on Biela, who worked as a pipe fitter. Police interviewed him and asked whether he would submit a DNA sample, but he refused, they said.
Detectives then spoke with Biela's girlfriend, who allowed police to take a DNA sample from their 4-year-old son, Poehlman said.
Police said that sample matched the boy's father to DNA evidence found both at the scene where Denison's body was found and on a rear door of the student apartment from which she was abducted.
The DNA also was matched to another sexual assault near the Reno campus in December 2007, police said.
Police took Biela into custody Tuesday on his way to pick up his son from day care, Poehlman said.
After his arrest, investigators obtained a search warrant and collected a DNA sample from Biela. Authorities worked through the night at the crime lab to complete DNA testing, which directly linked Biela to the the crime scene, police said.
Police learned that Biela left Nevada to take a job in Washington state in March, Poehlman said, noting that it was around the time a vehicle description and a composite sketch of a suspect were released to the media.
During the drive to Washington, Biela sold his truck, a Toyota extended cab pickup, which matched witness descriptions. Police have recovered the truck and are conducting tests on fibers for evidence.
Police said they think that the attack was random and that Denison did not personally know Biela.
E-mail to a friend

All About Criminal Investigations • Nancy Grace • Murder and Homicide