From Chris Welch
CNN
MINNEAPOLIS, Minnesota (CNN) -- Four victims of the 2007 Minnesota bridge collapse plan to sue a consulting firm that evaluated the structure and a construction company that was resurfacing it at the time, an attorney told CNN Wednesday.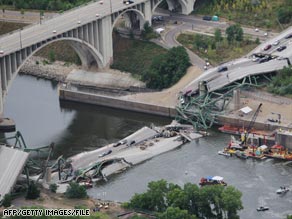 The I-35W bridge lies in ruins in August 2007 in Minneapolis, Minnesota.
Three of the plaintiffs -- Linda Paul, Justin Mishler and Wilfred Wagner -- were injured when the St. Anthony Falls Bridge on Interstate-35W collapsed on August 1, 2007.
Another suit will be filed on behalf of the family of Paul Eickstadt, one of the 13 people killed in the incident, said attorney Jim Schwebel, who is representing the four plaintiffs.
The lawsuits will be filed in Hennepin County, Minnesota, District Court against URS Corp. and Progressive Contractors Inc., Schwebel said.
Schwebel said URS, the consulting firm that evaluated the bridge for the Minnesota Department of Transportation, failed to recommend improvements to the bridge despite what he says were clear warning signs -- such as corroded, buckling gusset plates.
"Steel bridges do not collapse and fall without giving out some warning," he said.
"These were very, very important signals that this bridge was in deep trouble. URS had the obligation to evaluate the effects ... and make appropriate recommendations," he added.

See a diagram of the bridge »
The Minneapolis Star-Tribune reported Wednesday that Progressive Contractors Inc. was negligent in its placement of tons of construction material on the bridge and its removal of sections of the deck.
Officials at URS and Progressive Contractors did not immediately return phone messages Wednesday evening.
The National Transportation Safety Board is scheduled to release its final report this week on its investigation of the bridge collapse that injured 145 people.

See victims of bridge collapse »
An independent report released in May found that financial woes at the transportation department and poor maintenance plagued the bridge, though the direct cause of the collapse remained unknown.
E-mail to a friend

All About I-35W Mississippi River Bridge