From Deb Feyerick
CNN Correspondent

NEW YORK (CNN) -- Investigators with the NYPD's Internal Affairs Bureau are conducting DNA tests on equipment taken from the lockers of five police officers after a Brooklyn man accused them of sodomizing him with a radio antenna.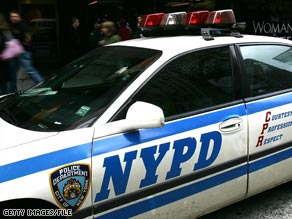 Michael Mineo said New York Police officers sodomized him inside a Brooklyn subway station.
Lawyers for Michael Mineo, 24, allege he was jumped by five officers inside a Brooklyn subway station, then sodomized with the antenna of a police radio.
NYPD chief spokesman Paul J. Browne told CNN that several people who were near Mineo when he was arrested "do not support Mineo's story that he had been sodomized."
A police official told CNN that Mineo was allegedly smoking marijuana when two police officers approached him. The official said Mineo tried to escape into the subway. When Mineo got downstairs and saw no train approaching, he jumped back over a turnstile, where he was grabbed and surrounded by other officers who had arrived on the scene, the official said.
Mineo, who was wearing baggy pants, was wrestled to the ground before screaming he was being Tasered and sodomized, the official said. Witnesses said they did not see any of the officers holding a night stick or radio, the police official said.
Mineo's attorneys, speaking Monday to reporters, said Mineo's physician's diagnosis, not yet made public, supported his claim.
"The principal diagnosis was status post-anal assault," said Kevin Mosley, an attorney for Mineo.
"The information that we have, based on consultations with doctors, certainly suggests that he is there due to complications from the assault," added Mineo's other attorney, Stephen Jackson.
Mineo's attorneys plan to request meetings with New York City Mayor Michael Bloomberg, NYPD Commissioner Ray Kelly and Brooklyn District Attorney Charles Hynes to discuss the events that led to the alleged crime and the status of the accused officers.
Hynes, who is also investigating the allegation, will interview the officers before Internal Affairs does.
The officers, one of whom is an NYPD transit cop, remain on full, active duty.
E-mail to a friend

All About New York City Police Department